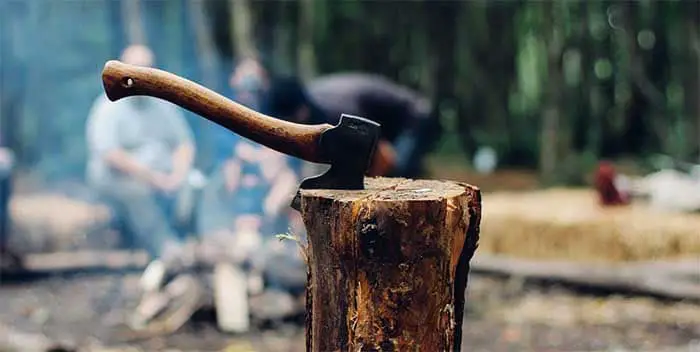 After setting up your bunker its time to invest in some survival weapons and tools. We need to be totally self-sufficient in the last days, this means being able to defend ourselves from those that want to take away our gear.
Sure we can go out and buy a whole arsenal of guns and ammunition but what about those that don't have access to guns or have difficulty in owning a firearm due to over-the-top crazy gun laws. I'm looking at you Australia.
We need a variety of tools and weapons as there is no one tool that does it all. In this post, I will go over the close combat survival weapons we have in our house to keep everyone safe in modern society.
Prepper Survival weapons and tools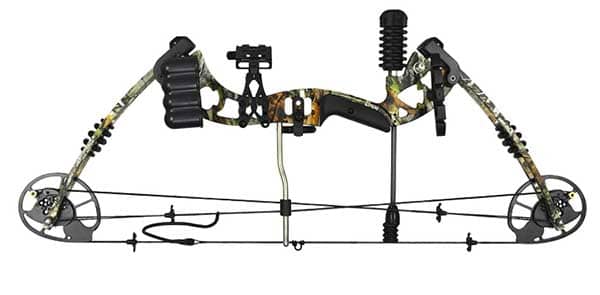 I'm a big archery fan, bows can be used to hunt for food as well as being a deterrent to those getting in your face. Now I don't condone violence of any type but we have the right to bear arms.
In our household, we have all been trained in using both the survivalist compound bow, crossbows, 3d printed crossbows, and the more traditional recurve bow. Safety comes first.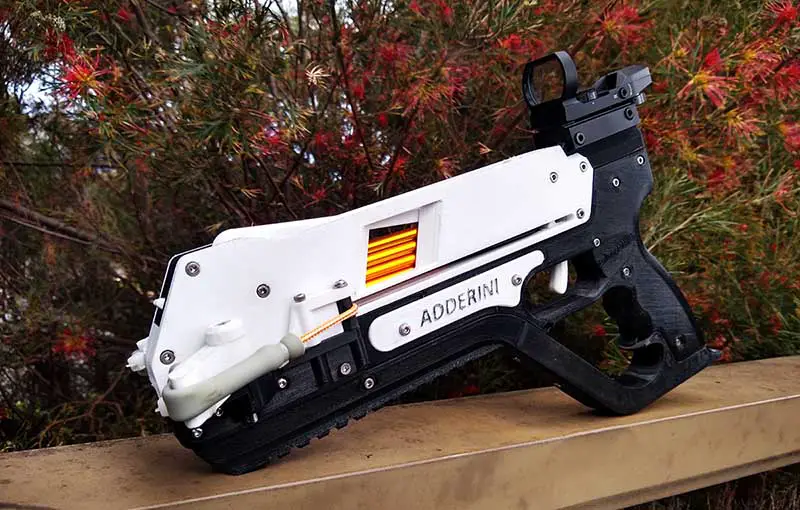 These survival bows have been placed in strategic locations around our home. Now they aren't on display for anyone to just play with but they do have hidden locations like hanging up in a cupboard or under a bed.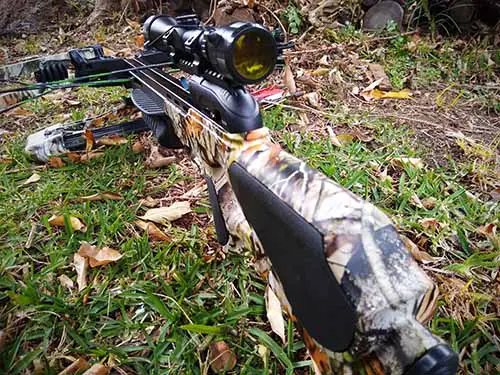 We also have a survival tactical recurve bow that collapses down small enough so it is able to store in a bug out backpack. I love that it's so small and hidden and it can be opened up and fired within 1 minute.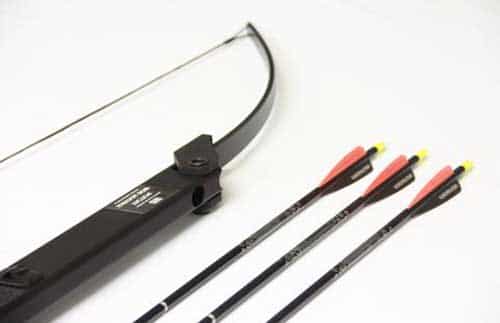 There is no need to have broad tips on your arrows for home defense. Simple target tips are enough of a deterrent. I only attach the razor-sharp broad tips when out hunting.
Never ever point a Bow and Arrow at anyone.
Recurve bows are great to learn on as you don't need to pull back as far as say the compound bow. This makes it more user-friendly for someone learning how to shoot.
For accuracy, you can't beat a good compound crossbow with a scope sighted in. Some make sure you field target practice first at different distances.
Check out my video of the Adderine 3d printed sling bow firing crossbow bolts.
Pink StunGun for women that looks like a torch
Having a close access deterrent like a stun gun will make any person feel safe. I like the fact that this stun gun looks and works like a normal torch. This way you can take it out for a dog walk, or in your handbag and no one will know the difference.
The extremely high voltage elements are hidden at the end of the torch bulb glass rim. There is one switch and one button to activate the light or the stun-gun. It comes in a range of colors if you are not a fan of pink, like blue, black, red, and green.
Heavy-duty pink stun gun with inbuilt 350 Lumen flashlight that has a 100,000-hour bulb.

Type III aircraft grade tough aluminum alloy body 

Internal Rechargeable Battery

Convenient Size: 6.75″

Lifetime Warranty
Now you must be over 18 to own one of these and some American states are cracking down on these. So check your country and state laws.
Police Strength Peper Spray for self-defense
Now stun guns mean you must get up and close with your attacker but pepper spray lets you stand back a meter or two for maximum effect. Pepper spray affects the eyes and sinuses and will immobilize any person in seconds.
The Sabre brand of pepper spray is trusted by the police and the public worldwide. With up to 35 uses from every canister, you can feel safe that you have plenty of uses in such a small device.
It has an excellent firing range of 10 feet or 3m in a thin stream to minimize blowback spray. I like that it has a safety twist top to prevent accidental discharges. The 3-in-1 solution has Red Pepper, CS Military Tear Gas, and UV Dye for maximum stopping power. The UV dye is to track down people after the event as it will show up under a black light.
Scatter a few of these around your home or in your car in hidden locations and survive any intruder. I got a little bit of splashback while testing out this pepper spray bottle and I can tell you it was an unpleasant experience. Only use in self-defense.
3 Rubber SlingShot for the kid in all of us.
I think that just about every little country boy had a slingshot some time in their life. Nowadays slingshots have evolved to incorporate armrests, aluminum composite frames, lightweight plastic frames high power rubber bands, and easy fire systems.
If you have a 3d printed you can even make your own 3d printed slingshots out of PETG filament and some Thereaband gold rubber.
These lightweight powerful slingshots are so much more accurate compared to the wooden Y frames that I used to make while I was growing up.
High-performance, High-tension rubber band with three-hole rubber band design.
Top leather wrapper.
Top firing accuracy, with wrist support.
Durable with a die-cast aluminum alloy frame.
Comes with 50 steel balls that are 7mm in diameter and 50 clay shot that is 10mm in size.
Torch or laser target pointer clamp bracket.
Now I must stress that this is a very powerful slingshot. The 7mm steel ball will put a hole through 4 layers of thick cardboard at a distance of 10m. I'm amazed at the accuracy, especially with the laser sight.
The torch attachment means I can use this for hunting at night or as a security device if the lights are out. It's small enough to keep in a bedside drawer for emergencies.
These slingshots are also powerful enough to take out small game animals like ducks or rabbits. In a starvation environment, it could save your life so pack one in your flight kit bug out bag.
Everyday Self defense weapons for preppers
My martial arts instructor always told me if I ever got into trouble using everyday items as a deterrent weapon. You intruder won't play fair so why should you. I like to keep these items around in hidden strategic positions around my home.
Walking cane,
Baseball bat,
Belt,
Car keys and an umbrella.
Each can be used to defend yourself in a time of need. Walking cane as a striking/defending weapon. The baseball bat if fun on a Saturday morning playing with my kids or as a deterrent. People are not going to hang around if you are carrying a wooden bat.
Most people don't realize that car keys are sharp and pointed. They can be used to tighten a small screw or be used to poke the face of an attacker. Don't be a victim. It's always great to have an exit plan but if you are cornered then use what is around you.
Tactical Survival Office Pen
I have started to use the self-defense tactical survival pen at work now and it's amazing how something so small can give me extra confidence in y day to day job. Not only does the ink flow smoothly but it can help you out in an emergency situation.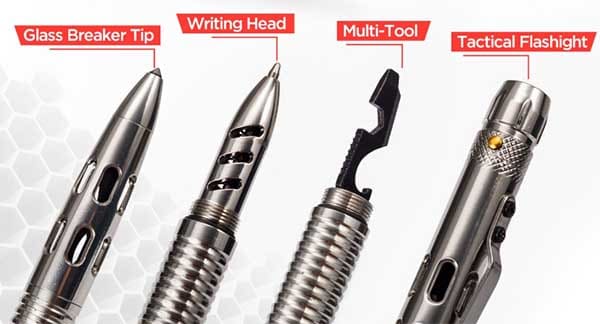 This pen can be used as a torch, screwdriver, PC computer wrench, and window breaker if required. It's nice and heavy so I know it will last the test of time.
Survival Tools for your Car
Apart from the everyday items, you may have around your house I like to keep a few items handy in my car for emergency breakdowns. Everyone should carry the following items in the boot of their car
Spare engine oil.
Extra radiator water. Fresh clean water also doubles as drinking water.
Small Portable Jumpstarter that is charged up every 6 months. A set of jumper leads are no good if it's only you stuck in the wilderness with no other vehicles around.
Small collapsible shovel/ax
Heavy-duty tire puncture repair plug kit and air compressor to fix punctures yourself.
Carjack and wheel nut brace. All cars should have these so just double-check if it's a second-hand car.
The most important item is the collapsible shovel. There have been many times when I have been bogged stuck in my 4×4 and this collapsible shovel tool has gotten me out. With a saw and sharp edge, you can dig and cut down small trees to put under your wheels.
This shovel is also handy to dig out a hollow for a below-ground campfire. We do this so the fire is protected from the wind and also to be inconspicuous.
If you are looking for a more heavy-duty ax then check out the IUNIO Camping Axe.
Take apart survival axe
I like that the Iunio tactical axe can dismantle down small enough to fit under the seat in your car or tucked away in your bug-out bag. It comes with the following attachments to make it a more versatile piece of survival equipment.
Screw-in Axehead
Sheath
Magnesium Fire Starter with Whistle
Fish Scaler, bottle opener, and knife
Extension Bar for extra length
Safety Hammer on the end of the axe
Round button compass
Hand Rope for safety


While the axe head is made from quality steel, the screw in the handle sections is made from thick aluminum. This cuts down on weight if it's in your bugout bag. Tools that can do more than one job are ok in my books.
Cool Gift For Men18 in 1 credit card pocket survival tool
This credit card emergency survival tool is one of the best I have seen. Just don't take it on an airliner as it's a fast way to get something confiscated.

Small Knife Blade
The tiny knife has a strong grip that fits between your fingers. The blade is partially serrated on one side and has a string cutter on the tip. In the middle of the blade, there are a few hex bits that can be used to tighten 3 different nut sizes.
Blade Sharpener
A dull blade is of no help to anyone. The side of your tool comes equipped with a knife sharpening stone. A few strokes are all you require for a razor's edge.
Magnifying Glass
As we get older we go blind. Use it to read a receipt, a small print on a pill bottle, or to harness the power of the sun to start a fire.
Compass
Find your way home or find your way to a holiday spot.
Ruler
The top of the metallic card has a metric ruler for instant measurements.
Bottle Opener
It's always time for a drink, but damn some of those bottles are hard to open. This doubles as a hook, bottle opener, and screw tool.
Toothpick
Because we all get stuff jammed in our teeth at the worst moment.


Tweezers
With these tweezers, you can perform a medical emergency by pulling any splinter. Don't forget to use the magnifying glass if it's small.
Fire Starter Flint
Flits are the fastest way to start a fire apart from using a match or a USB fire starter. If all fails you can use the magnifying glass.
Conclusion
Hopefully, there are some good ideas here to help with your stockpiling of survival weapons and tools. Even having something as small as a bottle of pepper spray will give you so much more confidence in your day-to-day life.
We live in a society that is slowly breaking down. So we have to learn how to take care of ourselves and others less fortunate. Be a survivor and I will see you in the last days together.
A quote from Maya Angelou.
My mission in life is not merely to survive, but to thrive; and to do so with some passion, some compassion, some humor, and some style.
As an electrician and a survivalist prepper, I want to share some of my ideas, thoughts, hardware, and survival techniques I have learned over the past 20 years. The world is changing fast and we need to be repaired for what may come if society breaks down.