I like my firearms, not only for hunting but for target practice. But there is one item that many people overlook and that is protecting the rifle scope. In fact, some of my rifle scopes cost more than the firearm itself. This is why it is important to protect them from damage and the elements.
In this post, we will cover the 4 ways that you can protect your rifle scope. Everything from dust covers, neoprene sleeves, cleaning, lineups, and dust caps.
Different Types of Rifle Scope Covers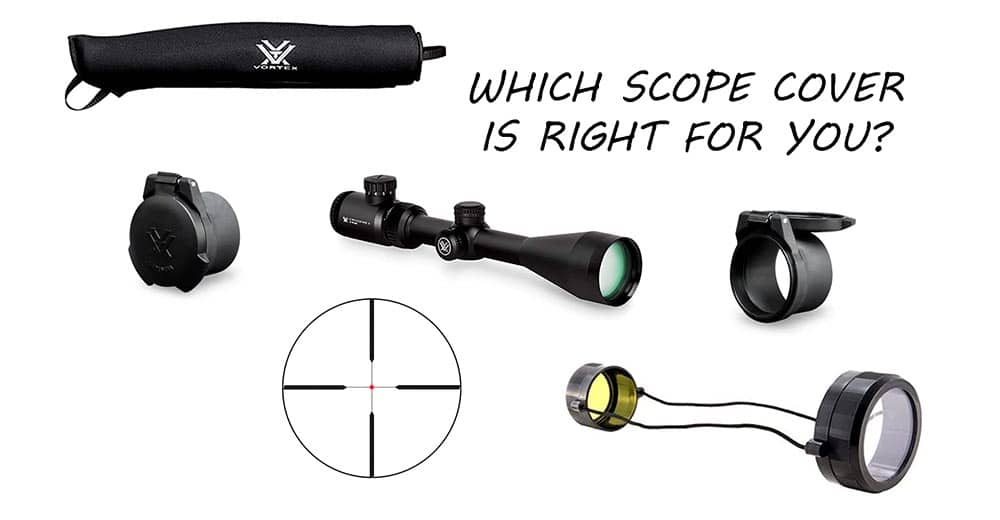 The best scope covers are something that protects your expensive glass scope. No one item can apply to all shooters out there so I have made a list of what works for me.
Neoprene Scope Covers are a excellent way to protect your rifle scope.
Dust caps elastic and press fit are cheap and often come free with your scope.
Flip up lids for scops are handy for hunters to keep dust and dirt out.
Plastic bag with rubber bands is the poor mans version of waterproofing.
Vortex Neoprene Scope Cover Review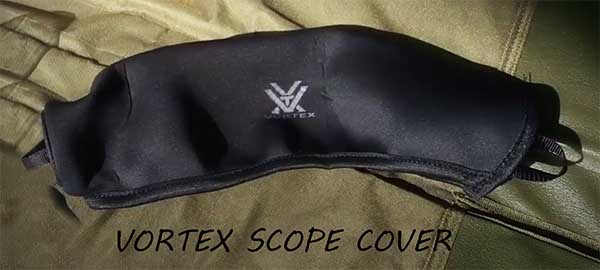 I have been using the Vortex Optics black scope cover on a 3-9×40 crossfire 2 and it's great. For hunting and general target practice, I can remove it when needed. Because it is made out of neoprene it will absorb any knocks and bumps.
Make sure to choose the correct size as all scopes are different. I have the medium size Vortex cover from Amazon as the Vortex 3-9×40 crossfire 2 scope is 11.86 inches in length. It fits well.
The only issue is once you remove it you have to store the scope cover somewhere. Often I just fold it up and put it in my pocket.
Neoprene Scope Cover size chart
The Surefit Vortex scope cover size chart below can be used to work out what size neoprene cover you will need. If you know the overall dimensions of your scope then any brand will fit.
Small 9-12 inch scope length
Medium 12-14 inch scope length
Large 14-15.5 inch scope length
Extra Large 14-16 inche scope length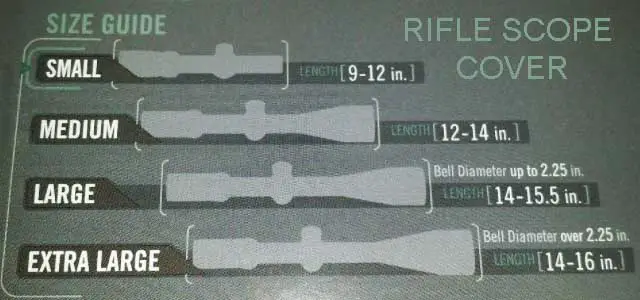 Benifits of a neoprene scope cover.
Protect your scope in storage, in the truck, or in the field.
Protect the scope from dirt, dust, and damage.
Water-resistant, great for when it rains.
Nylon- Laminated Neoprene for extra protection.
Cheap but durable.
Rifle scope dust caps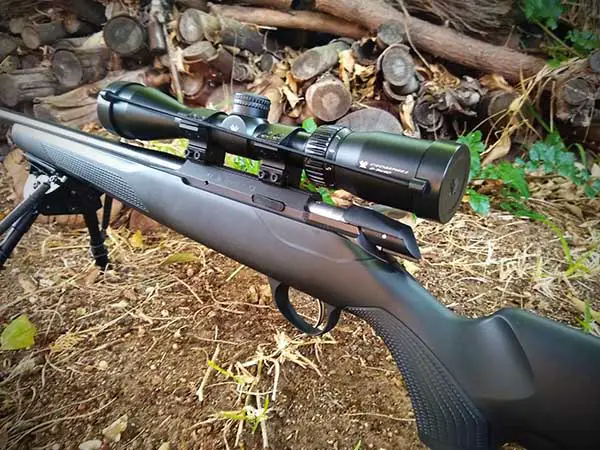 Every rifle scope that you buy will come with some sort of a dust cap. Either elastic, spring, or push on fittings. These are mainly designed to protect the scope glass from dust and damage. But they do make noise when placing the caps back on.
If you are out hunting and see a target, removing or replacing the elastic caps makes a lot of noise. This is because it is hard plastic touching the aluminum scope tube. This is why I'm switching over to the neoprene scope covers or flip-up caps.
The problem with the elastic and push caps is that once you remove the caps you will have to place them somewhere. Over the years I find that the elastic tends to break and lose its elasticity over time. They are easy to replace but it becomes a chore. I think the oil I use to keep the rifles clean and rust-free tends to break down the elastic.
How to replace the elastic on the scope caps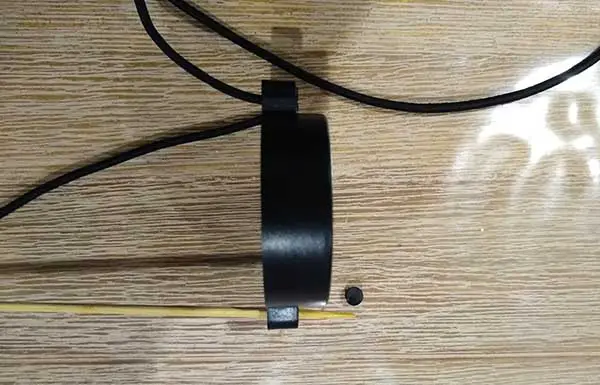 Use a small screwdriver or a skewer to push out the black plug and remove the old scope elastic. Buy some new round 1/8 inch elastic and thread it through. Tie a knot on both ends and test that each side is the correct length. Push the plastic plug cap back onto the scope cap.
I like to hot glue some felt to the inside of the dust cap only on the base. This will make less noise when placing the dust cap back on. Due to these caps being a secure fit you won't be able to place any felt onto the side walls.
Flip-up scope caps.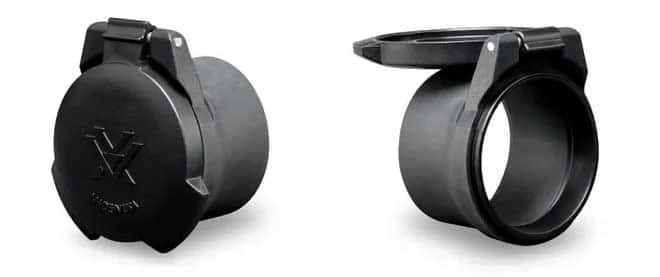 I like the concept of flip-up scope caps. No more having to find a pocket to store the caps and minimum noise. I have a set of the Vortex flip-up scope caps and I consider them one of the best on the market.
Flip-up scope caps can be attached to most scopes depending on the size of the eyepiece and the opposite objective lens diameter.
They are made out of rubber and so will have a compression fit. If you want a more permanent flip cap you could always use a drop of silicone glue to stick the flip cap to your scope. I have found that I haven't had to do this yet.
The only issue I found is that the flip-up scope cap will cover the adjustment ring for the focus. Once it is set for your eyes it may not be an issue. Just thought I would mention it. I have these Vortex Defender flip-up scope caps for my Crossfire II, 3-9×40. Size E-10 (41.5-46mm eyepiece) & O-40 (45.5-48.5 mm) 
Apparently, the E-10 fits all Vortex Riflescopes except the 1-inch tube Viper model VPR-M-01BDC, VPR-M-04BDC, and VPR-M-03BDC.
How to measure your scope outside diameter?
Use a set of vernier calipers to get an exact size match for the eyepiece and the objective outside diameter. This will help in sizing for scope caps and flip-up covers. You can use a tape measure for basic measurements.
Check out the video below on how to install Vortex defender rifle scope flip-up caps.
Rifle Scope Cleaning
Most quality scopes will be water-resistant. So if it starts raining while you are out hunting there is no need to pack your gun away.
I like to wipe my scope over with a damp clean cloth and then towel dry. Small drops of gun oil can be used on the adjustment dials and hold-down screws.
I wouldn't use alcohol to clean the lenses as some have a protective antiglare coating that can be damaged from the alcohol wipes. Clean the lenses just the same way you would clean eyeglasses with a microfibre cloth.
Anti-fog wipes can be used if you find the outside lenses of the scope are fogging up. If you have fog on the inside lens then you have a bigger problem.
How to fix a cloudy scope
Often a cloudy scope is due to water or moisture getting into the internals of the scope. As the temperature changes due or fog will form on the internal portion of the lenses.
To fix a cloudy scope you must remove the moisture from inside. There are a few ways to do this but the most successful way I have solved this problem is by placing the scope inside a 2kg bag of rice. Rice is hygroscopic and therefore can be used to absorb moisture.
Leave your rifle scope completely covered in rice for around 48h. The rice will pull out any moisture that is inside the scope. You can speed up this process by heating the rice slightly to around 60 deg celsius. We don't want the rice too hot otherwise you could damage the scope seals or plastic components.
Do scopes need covers?
No, but they do help in protecting your expensive rifle scopes glass from dust, dirt, and scratches. They can also protect the housing from damage. Resale will always be more with a well-looked-after scope. Don't forget to remove the scope covers before shooting, otherwise, it is hard to see through. I have done that a few too many times.
Be careful with neoprene scope covers on crossbows as they may interfere with the compound string. Some of these covers may have drawstrings or tabs that can catch in the rails of the crossbow. Check out our crossbow scope sighting in method article if you are having accuracy problems with your scope.
Conclusion
If you take care of your hunting scope then it will outlast your rifle. Be sure when first mounting your scope to lap the scope rings. This will make sure the scope is dead straight on the rifle mounts.
Everyone has a preference for scope covers. I like the flip-up and the neoprene scope covers it all depends on your application. Remember to be safe and never work on your firearm when it is loaded.
As an electrician and a survivalist prepper, I want to share some of my ideas, thoughts, hardware, and survival techniques I have learned over the past 20 years. The world is changing fast and we need to be repaired for what may come if society breaks down.