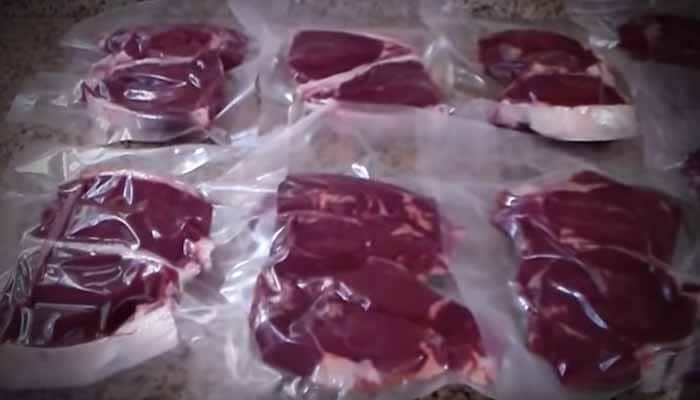 Just about everyone I know has a vacuum sealer for home use. Be it for the kid's school lunches or to store leftover food in the fridge or freezer. It is a known fact that vacuum sealing food makes it last longer.
The problem is most kitchen vacuum sealers work on 110 volts of electricity which is usually not available at your favorite fishing and hunting spots. You do have a few options though like bringing along a portable power generator or a 12v to 110-volt electrical inverter.
Now both these options will work with any commercial vacuum sealer out there but this will take up extra room in your vehicle. Plus it's not good if you are hiking. So what about using a portable vacuum sealer for hunting and fishing.
In this post, we will go over some of the best vacuum sealers for hunters and fishermen out there in the market today.
Model
Waring Commercial
Pro PVS1000
NutriChef
PKVS35STS
Features
30 Uses
110v powered.
Comes with 5 medium
vacuum bags and
1 medium vac bag roll.
Weight
3.5 pounds
4.47 Pounds
Able to use
common vacuum
bags
Yes
Yes
Size
4.2 x 11.9 x 10.8 inches

16.3'' x 5.31'' x 3.2' inches
Recommended
Great little battery operated
portable vacuum sealer.
Able to get up to 30 uses from
a single charge.
Best vacuum sealer for hunters.
Perfect for large game meat, fish
, and food storage.
A powerful vacuum pump.
Where to Buy
Waring Pro PVS1000
NutriChef Stainless
Battery Operated Vs Manual Vacuum Sealer Pumps
I really like the Waring Commercial Pro 1000 as a portable hunting vacuum sealer. It is nice and light and you can seal up to 30 bags on one charge. This should be fine for smaller game meat but anything larger and then you are going to need a commercial 110v vacuum sealer.
The manual hand pump from AsianiCandi is fine for smaller tasks. But for anything larger and it will begin to take a toll on your arm muscles. It works just like a bicycle pump but in reverse.
Just think of pumping up 30 bicycle tires or 30 basketballs with a hand pump. I know I would much rather do it with a battery operated pump. This is the same reason I like the Waring Pro 1000.
Waring Pro Pistol Sealer PVS1000 Review
The Waring pro cordless vacuum sealer is an industrial strength pistol vacuum for sealing food. In the kit, you get 20 reusable vacuum bags that can be washed out after use. You can also use other manufacturers' vacuum bags as long as they have a one-way valve.
This Pistol sealer works on any vacuum bag that has a one-way valve in the corner. Just push the soft sealing ring on the Waring Pro onto the plastic bag valve and pump away.
Once all of the air has been removed, you can then place the plastic vacuum bag into the fridge freezer or pantry shelf. Moist air is one of the biggest problems in keeping your food fresh. With a vacuum sealing system, you can remove all the air so foods like meat and fish will last longer. Also, you will find it will taste better.
Note: The Waring Pro looks to be also rebranded as a Cuisinart Handheld Vacuum Sealer.
Tips and Tricks on using a Portable Vacuum Sealer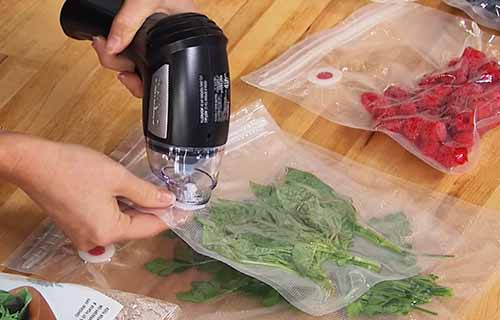 Vacuum Sealing Liquids
The Waring Pro can seal everything from Soup, Chicken, Meat, Fish, Grains, Pasta, Vegetables, Fruit and much more. As it can seal liquids you still have to be careful not to suck up any fluid into the machine.
One way is to use a larger bag than is required and stand it up so that gravity will keep the liquid soup lower in the bag as the air is being pulled out. Another way is to freeze the liquid first before vacuum sealing it.
Washing the Reusable Bags
To make washing easy I like to use Glad wrap over the food first. As you remove any food from the vacuum bag it will only require a quick rinse out. make sure to dry the bags inside and out fully.
Battery Not taking a Charge
The Waring pro uses a NiMH rechargeable battery. Over time this battery slowly will lose its charge. Make sure you give this vacuum pump a top-up charge at least every 3 months.
If you find that the Waring pro hand vacuum pump will not take a charge, try this trick. Get yourself a 9v battery and some wire to jump-start the battery. Take the 2 pieces of wire and connect the positive of the 9v battery to the positive of the Waring battery. Do the same to the negative terminals. After around 1 minute you should be able to remove the 9v battery and connect the hand pump back up to the charger.
Warning: SurvivalJar takes no responsibility for any damage caused to your equipment.
This is not a fault of the Waring Pro but a condition of NiMH batteries. They will slowly deplete over time. Once the battery voltage is too low the charging circuit is unable to charge it from the very low charge state. I had the same issue with a cordless hand scrubber last year. This 9v power jump-start trick brought it back to life.
Sealing Hunting Meat in Bulk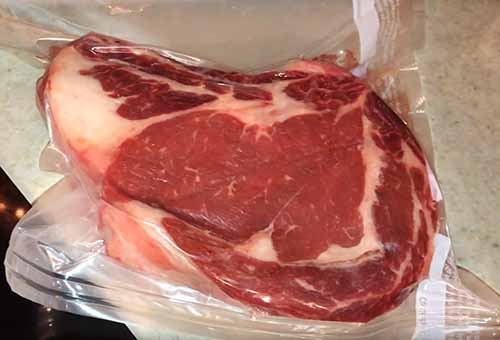 Many hunters tend to use commercial-grade vacuum sealers like the
Stainless Steel NutriChef PKVS35STS it's the best. The only issue is you will need access to 110v to power up this beast. Usually, this is not a problem when hunters bring back Deer, Rabbits, or Pigs to be cut up back at the cabin.
Having a portable generator in your truck can mean that you can fillet your catch out in the wild. I really like that the top is stainless steel so it can be wiped over quickly. It will also take a fair bit of abuse while you are out hunting due to its stainless build.
NutriChef is one of the leaders in vacuum sealing technology. This Stainless steel model has the ability to seal dry & moist food types, with its powerful 110-watt suction motor and a quick sealing element. It will be perfect in the kitchen or connected to a generator on your next hunting trip.

It's nice and wide so you can use large vacuum bags like the 11-inch wide ones. It comes with a medium 8-inch vacuum roll so you can make large long bags.
The one-touch buttons are great so you can seal and then vacuum and seal. The large powerful motor means you won't be waiting a long time for the air to be sucked out. Depending on the volume 10 seconds or less is common.
While I was researching which one to buy for my fishing trips, I also came across the [Amazon] Sarki Heavy Duty vacuum sealer. Now, this looks similar to the NutriChef and both get fantastic reviews online. I'm sure either one will be fine and they both get my approval for the best vacuum sealer for fish and meat. I wonder who is doing the rebranding.
NeutriChief Stainless Specifications
Automatic vacuum air sealing made easy with one-touch buttons.
Simple electric plug-in design
Ability to seal dry and moist food types
Two selectable air seal modes: 'Gentle' +'Normal' vacuum sealing
Creates a strong, air-tight vacuum in each bag via heat-sealing.
High-power suction element.
LED indicator lights.
Stainless Steel stain-resistant and easy-to-clean housing.
Comes with- (5) medium vacuum bags (7.8'' x 11.8'' -inches) – One long vacuum bag roll (7.8'' x78.7'' -inches)
High-power suction element: 110 Watt.
Vacuum/Suction strength: 14L/min (-0.8 bar)
Able to withstand food temperatures of up to 212°Fahrenheit Max.
Power cord length: 3.3' ft. – Power: 110V
Dimensions (L x W x H): 16.3'' x 5.31'' x 3.2'' inches.
Perfect vacuum sealer for Sous vide.
How to seal food without a vacuum sealer
This is a neat trick that anyone can do. If you want a very basic vacuum seal for your meat, fish, and vegetables you can do it with just a bucket and some water.
First, get a Ziplock bag put the food that you would like into it, and seal it up leaving a 1-inch gap.
Fill a bucket with cool water an inch from the top.
Place the zip lock bag into the bucket and push it down under the water but leave the Zip-lock exposed.
Clamp shut the final 1-inch gap and remove the Ziplock bag from the water
Congratulation you now have a vacuum-sealed bag.
Aldi Ambiano Vacuum Food Sealer
An honorable mention is the Aldi Ambiano vacuum food sealer. It's cheap small light and comes with an easy cutting mechanism for the food bag rolls.
The multifunction control panel allows for flexibility of vacuum pressure and sealing time, based on food types
Can be used continuously more than 100 times without overheating
Seals up to 30cm wide bags and rolls
Built-in roll holder and easy-slide roll cutter
Easy-clean drip tray
Extra wide sealing length 
Power 220-240V, 50Hz, 100W
Maximum vacuum pressure: 0.75bar
Key new feature: comes with a removable liquid tank for easy cleaning after spills
Safely packages moist, dry, and delicate foods
Tube connection point for vacuum containers.
Conclusion – Best vacuum sealer for hunters
At the end of the day, it will all be up to which of these 3 vacuum sealers work for your hunting trips. If power and space are at a premium then stick with a manual pump.
On the other hand, if you just need a portable vacuum sealer for the boat or the esky then stick with the battery operated vac pump from Waring. Your arm will thank you.
If you have access to mains or generator power at the end of your trip then the best hunting vacuum sealer has to be the NutriChef Stainless steel 110w model. With plenty of suction power and a nice long sealing edge, you will have that whole Deer cut up and vacuum sealed in no time.
---
As an electrician and a survivalist prepper, I want to share some of my ideas, thoughts, hardware, and survival techniques I have learned over the past 20 years. The world is changing fast and we need to be repaired for what may come if society breaks down.