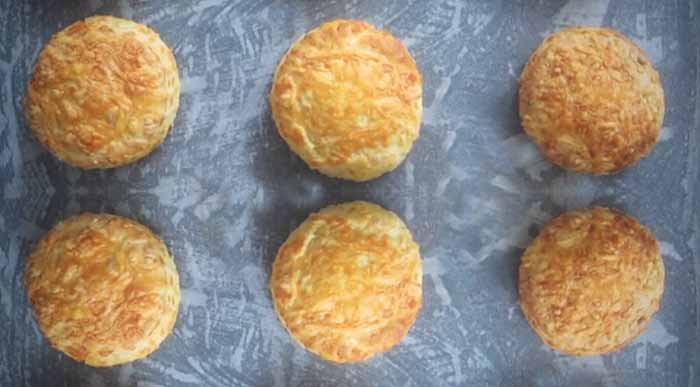 This is an Australian recipe for Outback Bacon and Cheddar topped savory scones. These are a hearty bun that will fill you up and taste fantastic. They are quick and easy to make with basic ingredients. Perfect in a survival situation bread replacement. Or as a cheap fun snack.
Makes around 10 savory scones depending on size.
Ingredients
Dough
3 Cups of self-raising Flour.
1/2 Teaspoon of Salt.
1 Cup of full cream milk or thickened cream for extra calories. Yum.
1/2 oz butter.
1 Beaten Egg.
1 Spoon castor sugar.
Topping
3 oz Butter.
Pinch of cayenne pepper and pinch of salt to taste.
1/2 teaspoon of dry mustard.
3 oz Tastey grated cheddar cheese.
Ham or pineapple diced.
Options – Chives
Prepare the topping mixture by first melting the butter and adding pepper, salt, and mustard. Take off the heat and allow it to cool you can then add in the cheese.
Fry up some small diced bacon and added into the cheddar cheese mixture.
For the dough, scones mixture melt butter and add-in salt, milk, egg, and sugar. Mix well together and sift in the self-raising flour.
Lightly knead and cut into hand-sized balls. Place the scones on baking paper and flatten out slightly. Place a small teaspoon of bacon and cheese topping on top of each scone.
Bake for 15 minutes at 425 deg F (Around 220 deg C)
For extra variety try some grated ham, pineapple, or chives in the topping mixture.
Storage
How long will scones last?
If properly stored, freshly baked scones will last for around 2 days at normal room temperature. Keeping them in the fridge in an airtight container will make them last longer.
Can you freeze scones?
Yes, you can, a zip lock bag will work or individually wrapped in glad wrap. A vacuum sealer for scones will provide a long term freezing solution. To defrost just place in a microwave for 30 seconds or in an oven at 350 deg F for 6-10 minutes depending on the size of the scone.
Can you make savory scones without an egg?
Yes but the scone will be more dense and thick. The egg is used to make the savory scone lighter and fluffy. It also adds taste and flavour. For those that are allergic to eggs, you can omit the egg without any problem.
Topping Options
As well as cheese you can spice it up with some of your favorite toppings. Ham and Pineapple work well together. The kids love them.
Ham and cheddar savoury scones are a favorite in our family and are an easy snack to make while out camping or in a survival situation.
Cheddar chive scones are another option that can mix up the flavors a little. Just dice the chives up thinly and add into the cheese topping mixture.
Plain scones are great to be cut in half with jam and whipped cream spread in the middle. Strawberry jam is a family favorite.
Let me know in the comments below how you like to make your scones and what toppings you love.
As an electrician and a survivalist prepper, I want to share some of my ideas, thoughts, hardware, and survival techniques I have learned over the past 20 years. The world is changing fast and we need to be repaired for what may come if society breaks down.