I have been 3D printing for a few years now and it is an exciting new technology that is continuously evolving. I have made many 3d Printed gun accessories that have saved me a ton of money.
In this post, I will be showing you the files and settings I use to print out gun accessories and tactical gear that is actually useful.
Just about all of the gun accessories are STL files. This is a file that most splicing programs such as Ultimaker Cura are able to read. I use Cura as it is a free 3d splicing program that supports most printers out there.
3d printed gun accessories
AR15 Wall mount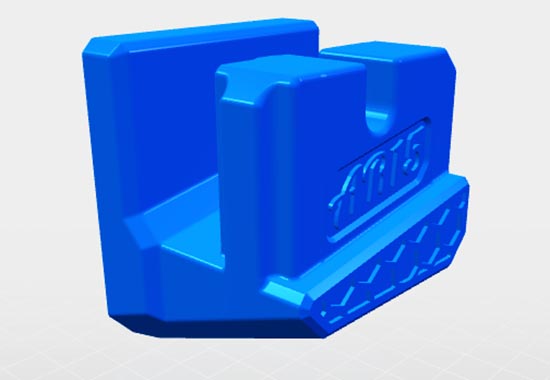 This free 3d printed AR15 Wall mount fits into the mag well to hold up the gun. This has holes aligned vertically to screw to a stud without a problem. Clearance in the front for the top screw to be able to screw it to the wall. Mounts the gun with the barrel aimed to the right.
Print with PETG for strength and impact resistance.
GoPro Picatinny Rail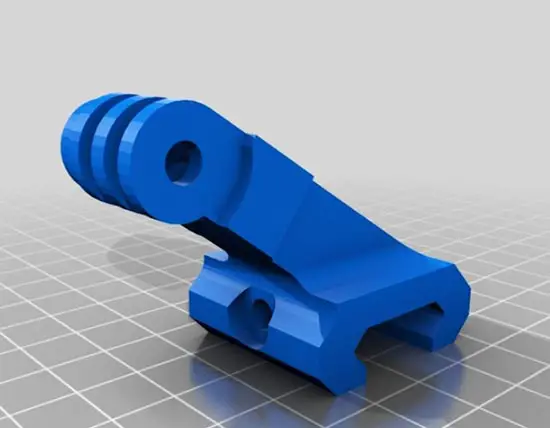 This 3d printed GoPro Picatinny rail will let you mount your GoPro onto your firearm. Perfect for live-action video of your Paintball or Airsoft. Be sure to print it in PETG for impact and heat resistance.
3d print Picatinny rail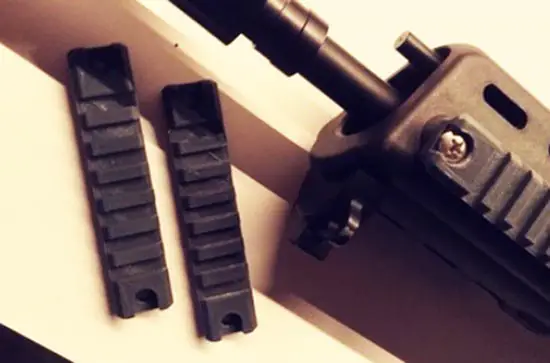 Picatinny rail for G36 airsoft gun but will fit many other models. Use PETG for a long-lasting 3d print gun accessory part. Thingiverse has many other options for Picatinny rails so I'm sure there is a 3d print design that works for your gun.
AR-15 5.56x45mm NATO 5-round Magazine Fast Loading Device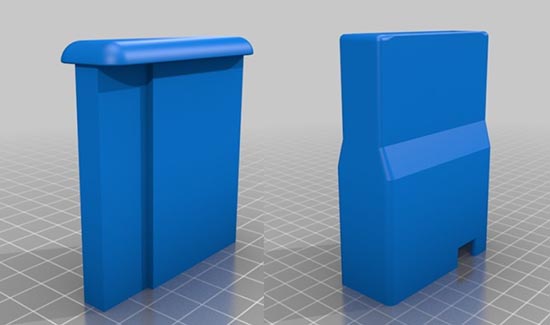 The AR-15 5.56x45mm NATO 5-round Magazine Fast Loading Device is a quick loader for your rounds. I print them with 40% infill and supports in PLA and PETG.
It makes loading magazines fast and quick. Even though it can only fit 5 rounds you can fill a 30-round AR-15 mag really fast.
I print these out to give away at my local gun club. They get great reviews. For a free download, these are a great time saver for loading rounds.
3d printed tactical gear
Valorant – Tactical Knife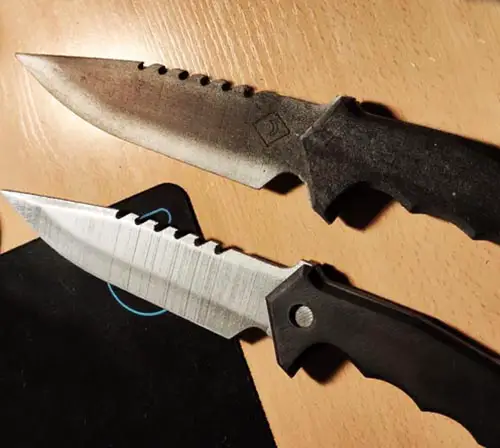 This is a free fully 3d printed tactical knife. You can get some really good results by using a small nozzle size and fine print settings. Sharpen up with some fine sandpaper. Use PETG for strength and impact resistance.
These are for cosplay and airsoft only. Do not try and bring these on an airplane as they will be confiscated.
Rifle Scope caps
Now you can print out your own rifle scope caps if you lose one out in the field. This file can be modified to suit the exact measurements of your scope. These will fit LEAPERS 4/32.
Check out our other post on 4 ways to protect your rifle scope from the elements.
Strong Flex door Carabiner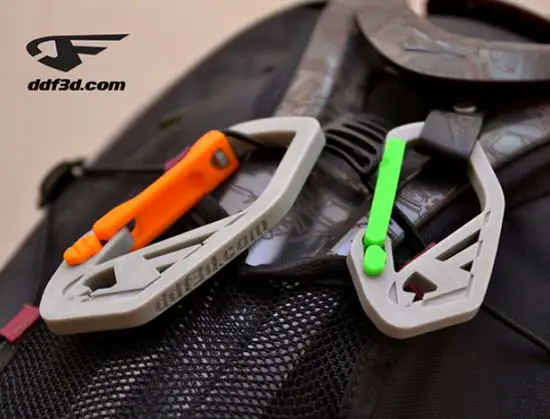 The flex door carabiner comes with only 2 parts, a hook, and a door. It is very easy to assemble and easy to make. You can scale for your preferred size and need. These are great for backpacks, tents, and tactical vests.
The scaled capacity of 75% to 120%.
Design for general FDM 3D printer print by PLA, PETG, or ABS material.
No additional support is needed, and it is easy to print.
The fast print design makes general print time around 45-100 min.
When I print on scale 1, I use the following settings infill 50%, nozzle 0.4mm, shell loop 3. This 3d printed carabiner general can handle 15-35kg load. The design can print without support and raft set.
Layer high from 0.15mm~0.3mm is fine. Infill better to use over 50% for strength.
3D Printed pistol crossbows
Adderini 3d printed crossbow slingbow
3d Printed crossbows and sling bows have come a long way in the past few years. The Adderini pistol sling bow/crossbow has been my favorite project to print on my Ender 5d pro. Check out the link above for the full instructions and parts list.
There are a few different configurations depending on if you want the crossbow or sling-bow version. Both are included in the files that you download. Now, this is a long print project and it will take you around 50h+ depending on the quality and speed of your 3d printer.
For the Adderini Slingbow version, there are 32 individual 3d parts that will need to be printed.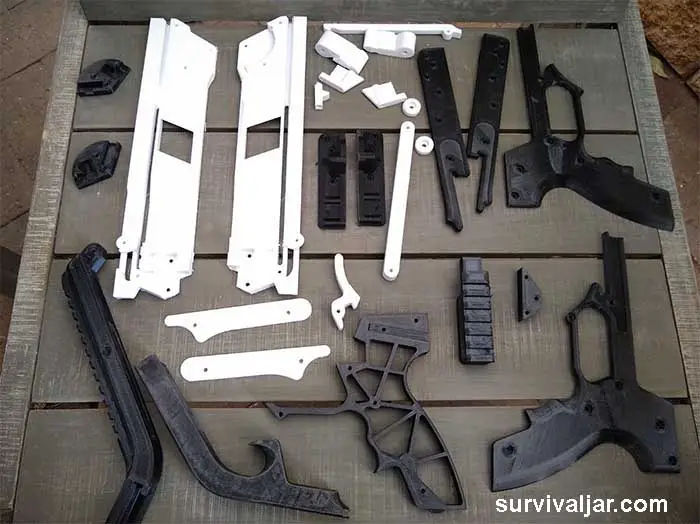 There are a couple of extra parts that will need to be purchased depending if you are making the 3d printed pistol sling bow or crossbow such as:
I made my 3d printed crossbow with the Theraband silver tube as it was a more simple design. Plus you get to choose a few different limb designs like this Adderini sling tube limb.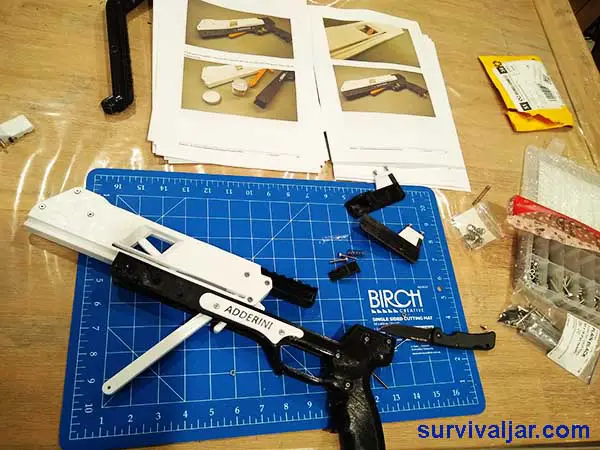 I went with the sling bow version as it is a smaller compact design and slightly cheaper as I only had to purchase Theraband silver tube rubber.
Check out my Adderini in action in the video below.
Baraba Repeating pistol crossbow.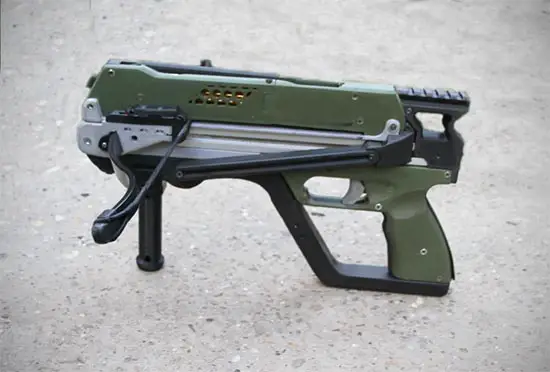 The Barraba 3d printed crossbow sling bow is very similar to the Adderini but uses some 20×20 T-slot aluminum extrusion for the center core. There are options for crossbow and sling bow versions.
The BARABA is a collection of 3D printed parts to convert your regular 20mm aluminum profile extrusion to a 6-shooter repeating crossbow pistol. The project cost is about for me was around $35 USD.
You can make it cheaper by going with the sling bow version as you will only require rubber.
This is the correct Cobra 80lb Replacement Limb that you require. This is the replacement cobra pistol crossbow string.
You will need some small M3 and M4 hex screws as well as 2x small springs.
The instructions to make the Adderini is found here.
I personally think that the Baraba 3d pistol sling bow is better than the Adderini due to the center-rugged aluminum extrusion that gives it strength.
You can check out the downloadable files here for the Baraba printed pistol crossbow.
The build guide and parts list can be found here https://pdfhost.io/v/45S66ZNe9_BARABA Be patient the host is slow and it's a big file.
COBRA system bow and string
2. 284mm aluminum profile, standard 20mm one that most 3D printers are made of.
3. Machine bolts and nuts. Get some more than listed because the bolts often fail.
20 x M3_20mm bolts
4 x M3_15 mm bolts
4 x M3_25mm bolts
40x M3 nuts
1x M4_40mm bolt
4x M3_30m bolts
4. 1x M4 nut
5. M5x100mm screw for main lever reinforcement (optional) and M5 bolt
6. 4 compression springs and one tension spring 8 mm radius.
7. Pistol arrows
8. Rubber, like from a bicycle tire, to cut in 8mm strips.
9. Piece of steel wire 20mm long
10. Paint for details to make it look good but not needed.
3d printed tactical helmet
Now just a word of warning these 3d printed tactical helmet files have not been impact tested. So print and use it at your own risk. They are great for cosplay or use in paintball. I recommend printing all helmets in PETG.
TACTICAL PRINTED HELMET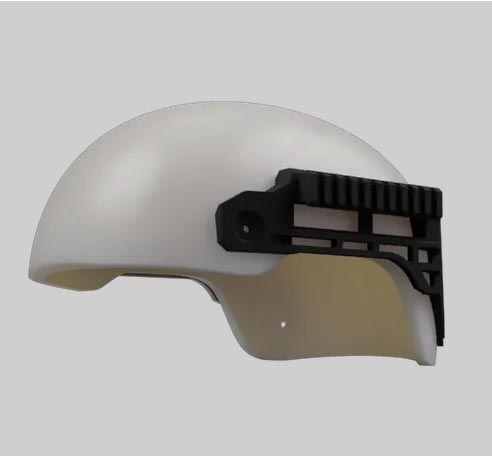 This 3d tactile helmet model was inspired by the Highcom ACH High cut, it's intended for use for airsoft, paintball, or cosplay reasons.
-5 mm screw holes, for mounting the helmet strap (you can make them bigger).
-Smooth and bump-style version (bump has vents).
-Rail model is updated, now comes with a Picatinny rail (110mm) for both sides, so now the side rails can have some function to quickly attach your favorite rail accessory.
Post-process is highly recommended this means sanding, adding a resin or a coat of glue (something to give the piece more strength and to smooth out the print's edges), and painting.
FUTURISTIC TACTICAL HELMET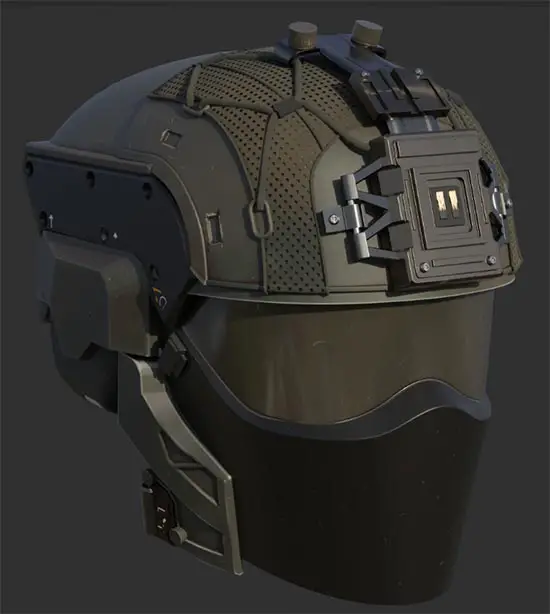 This tactical helmet is based on art for Call of Duty Infinite Warfare.
The width of the helmet is 21 cm
Length of helmet 31 cm
Height of helmet 29 cm
The thickness of all parts 3mm
3D PETG filament printer settings for gun accessories and tactical gear.
I like to use PETG filament for all of my 3d printing gun accessories. PETG filament as it is less brittle than PLA filament and it last longer outdoors. PETG is durable, tough, has good chemical resistance, high impact strength, and prints excellent with higher temperatures.
Most designs mentioned here are optimized for 3D printing with a layer height of 0.2 mm. For the purpose of strength and durability, I recommend printing all elements with an extrusion width of 0.45 mm, a wall thickness of 2.25 mm (5 shells/perimeters), and bottom/top walls thickness of 1.2-1.6 mm, and an infill of 25-30%. This is for most larger tactical gear objects.

I also recommend printing at a slightly higher hot-end temperature than usual. So for PETG, I print at 240 deg Celcius on the extruder and 80 deg celsius on the heated bed. This will give you a strong bed and object bond. I also recommend printing on a glass bed or PEI-coated steel sheet to make the surfaces smoother. Your 3D printer should be well-calibrated (extruder steps, flowrate, first layer height).
Conclusion
3D printing used to be hard but now all the software is user-friendly and the printers are good to go straight out of the box. I do recommend learning how to fine-tune your 3d printer for the best results.
You can check out this post on the best Crealtiy Ender 5 mods to improve your 3d prints. It's the printer I have and I have been very happy with it.
Let me know in the comments what other 3D-printed gun accessories and tactical gear you have made.
As an electrician and a survivalist prepper, I want to share some of my ideas, thoughts, hardware, and survival techniques I have learned over the past 20 years. The world is changing fast and we need to be repaired for what may come if society breaks down.