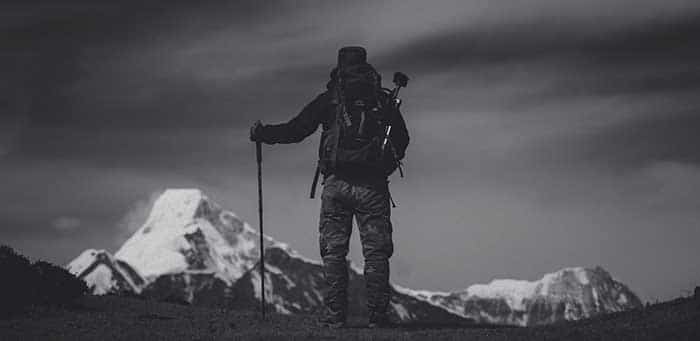 Having a prepacked survival backpack for an emergency is essential if you are serious about becoming a full-time prepper. I have felt the need to have a bug out bag prepped and ready to go in a moment notice for a while now.
This week I finally got around to getting all of the necessary items organized and packed up ready to go. So let's look at what I have included in my bug out bag master checklist.
Ultimate Bug out bag Checklist.
It's important to first work out how many people will be traveling with you. This will determine who can help you carry some gear. Not everyone needs to carry a first aid kit.
With 5 people in my family, I first ordered 5 survival backpacks. Two larger bags for my wife and myself. The 3 smaller hiking backpacks are for our kids.
We decided that if required we would need to be able to quickly leave the city for a maximum period of 7 days. This should be enough for any natural disaster or end of the world event like a volcano eruption or a tornado. Hopefully, FEMA (Federal Emergency Management Agency) will be around to help by then.
These 7 days should be enough to evaluate the situation and make plans for either a longer stay away from home or return for a restock. So let's go into the items I like to store and carry in my survival bug out bags.
Top bug out bag items for your survival.
Food and water – MRE Meals ready to eat are easy to store and can provide up to 2300 calories per pack. Because they can be stored up to 5 years it makes storing into your backpack convenient. Water can be carried in some bottles and if kept in a dark cool place will last for many years. Be sure to also pack a Lifestraw to purify any water prior to drinking.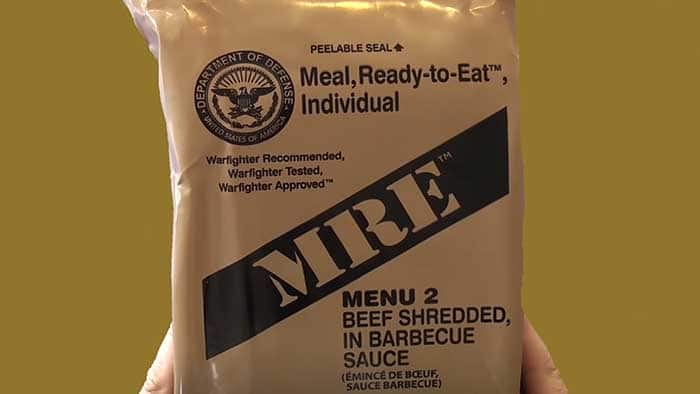 First Aid Kit. – Being able to perform basic first aid is a skill everyone should learn. There are some great resources and books that can teach you all you need to be a bush doctor.  Strapping a broken bone, cleaning a wound, making a sling, or treating a snake bite can make all the difference in survival.
Something as simple as a Mosquito bite heat pen can work wonders on bites and stings.
2 Way Radios. Having communication in the middle of now where can mean the difference between life and death. We have 4 sets of the handheld Uniden 2 way radios. In a direct line of sight, you will get a few KM range. But they will pick up any high power transmissions in the area. This way I can go out fishing or hunting and still be able to call the family left back at camp.
These are a 50 Channel walkie-talkie with Up to 36-Mile range communication in open areas with little or no obstruction. The range is truly impressive.
Hunting and Fishing Equipment. I am a keen fisherman so I know I can provide fresh fish for my family. We have scoped out some bug out areas that we can go that are near fresh water and contain fish. A couple of handlines, hooks, sinkers, and jigs will provide the basics. But if you want to learn how to catch fish with a piece of wood then you have come to the right place.
Hunting with a survival compound bow is also possible. With rabbits, deer, and ducks in the area, this is also a source of food. Arrows are reusable and quite so not to scare off the game or provide your location to people that may want to do you harm and take your gear. Just remember if hunting large game to use appropriate broadheads.
Shelter and clothing. Having a quality windproof and waterproof tent is very important if you want to be comfortable out in the wild. We have a Coleman 8 person tent which is perfect for my family. Having everyone in the same tent for me is important for protection in the wild.
Sleeping bags are also important. Make sure to buy the correct rating sleeping bag for your area. Most sleeping bags above 10 degrees Fahrenheit are rated in accordance with EN (European Norm) 13537 and ISO 23537.
Power Generation. I love my gadgets, be it a GPS, tablet, phone or laptop I want to be able to charge them while out in the bush. If the grid goes down I want some power. Sure you can carry a backup battery power bank but that won't last long till its flat.
 Portable solar panels that can charge any USB device are perfect for storing in backpacks. They are flexible and fold out ready to charge your phone in a few short hours.
Money and Gold. If the power grid as down the only way to trade will be in the form of cold hard cash. Think outside the box, if you need something offer money to someone that has what you need. Jewelry like gold rings is also very valuable as a trading item. They are small enough to carry in a concealed location.
The best place to buy second-hand gold rings and necklaces are at a pawnbroker. Just haggle don't ever pay retail.
Tools. It's important to carry some basic hand tools like screwdrivers, pliers, metal and wood hacksaw blade,  knife, electrical tape, hammer, wrench, shifter, and rope. I like being able to fix anything if it breaks. Being prepared is the name of the game.
Toiletries. This is super important and something most people forget. Toilet paper, toothpaste, wet wipes, feminine hygiene products, and some body wash are the basics you will require. Most MRE packs should include some of these items but just check to be sure.
Fire Starting device. Being able to start a campfire will keep the wild animals away from you. A fire is also a form of warmth and comfort and can provide the heat necessary to kool and wash with. I like to bring 3 forms of firestarters. Matches, Flint, and a USB plasma lighter are my favorite.
I have found that firestarter blocks can really help getting a slightly damp fire going fast. You can check out our post on how to make your own firestarters out of sawdust and wax.

Torches. I like to have 1 torch for every person. Nowadays the small LED torches powered by the lithium batteries are the perfect lightweight long lasting torch.
Tactical Pen – These pens have a whole heap of internal tool and options. Such as a torch, screwdriver, file, glass breaker and a hex wrench. I have the Bellfyd self-defense tactical pen and its great.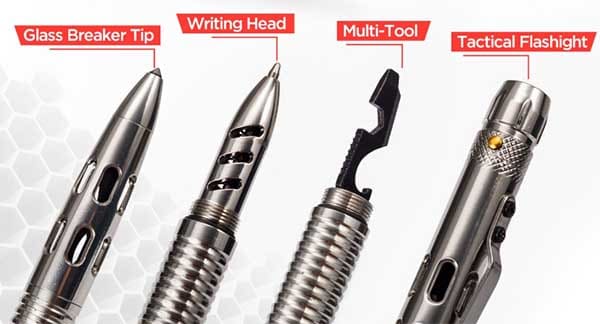 Identification – This is important to show emergency personnel that you live in the area and not a looter.
Medication – Always take your medication, if you have a spare asthma puffer bring that along as well you never know when another person may need it.
Make sure to separate your multiple items into each of your backpacks. This way if you do lose a pack you won't lose all of your supplies. It will also separate the load so not all of the heavy gear is in one bag. But if you are making a survival backpack just for yourself then be prepared it's going to be quite a load.
How else can we be prepared?
Members of The  Church of Jesus Christ of Latter Day Saints also known as Mormons have always been instructed to get out of debt and have some food storage for emergencies.
Members of the Church have been counseled for many years to be prepared for adversity. Preparation, both spiritual and temporal, can dispel fear (see D&C 38:30).
Elder L. Tom Perry taught, "The need for preparation is abundantly clear. The great blessing of being prepared gives us freedom from fear"
I encourage you all to live within your means and be kind to those around you. Who knows one day you may require some help yourself.
Qualities of a good prepper backpack
You are going to want a backpack that is waterproof or has a PVC sheet that you can pull over the bag. It also has to have a whole heap of pockets inside and out for storage and separation of your gear.
Look for a backpack that has a lot of internal pockets. I like to write on my bag pockets with a laundry marker the basic contents of each pocket. Saves you looking in each compartment for a box of matches.

The above 72-hour bug out kit is perfect for a family of 4. The tools, food and water are all top-of-the-line items in their class. Premium items included:
1 Large hiking backpack,
24 Mountain House food servings MRE,
48 Packets of Datrex pure water
1 Sawyer Squeeze water filtration system
8 Cyalume chemical SnapLights
2 LED lanterns, 2 flashlights
1 Fully stocked First Aid Kit,
4 emergency silver blankets, 2 bath wipes,
1 portable stove, 4 bowls, and utensils,
1 MoraKniv knife, 1 Ferrocerium rod, 4 InstaFire tinder, and 4 whistles.
If you are trying to be stealthy then a full camo backpack might be on the cards.
Conclusion
Hopefully, this extensive list will help you with your preparation to gather some survival products for a flight or fight kit. At first, it can be expensive so just purchase a few items each week. Second-hand stores are great for some hardly used camping gear.
Leave a comment below for the special item you can't do without, and I will add it to the list.
As an electrician and a survivalist prepper, I want to share some of my ideas, thoughts, hardware, and survival techniques I have learned over the past 20 years. The world is changing fast and we need to be repaired for what may come if society breaks down.