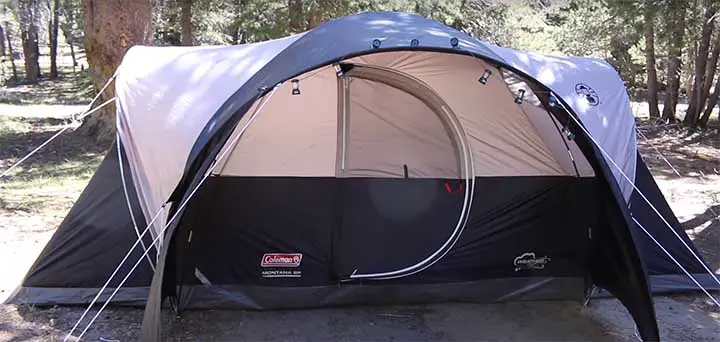 Over the years I have given a lot of thought into what we would do in the unfortunate event that we have a natural disaster or a breakdown in society large enough that we would have to leave our home.
As a family of we wanted a place to go to that wasn't too remote and we could access with a 4 wheel drive. So we decided to buy a holiday home on the edge of a river. To enable this large expense to be paid off over time we rented this place to friends, family and work colleagues.
But we also needed a Plan B if we couldn't get to our secluded bugout place of residence. We already had our bug out bag list so all that was left to do was work out an escape plan. So we drew up a map of the closest freshwater rivers around a 100-mile area of where we currently live. But we were missing one important piece of equipment, a large family 8 person tent with full rain fly cover.
Lightweight but heavy duty 8 man survival tent.
We now needed a good strong all-weather camping tent that can be our home in the event we need to bug out fast. The task was now to find the perfect survival family tent. So after many months of research and a few camping trips with our smaller no-name 6 person tent we decided that the Colman Montana 8 person tent was the best for our needs.
 This tent was more than capable to withstand some of the harshest weather that our area could deliver.
We had a few requirements that the 8 person tent had to pass in our review process.
Be able to be bone dry in a thunderstorm
Full rain fly
Capable of withstanding high wind gusts.
Have a large 6-foot high ceiling.
Large swing easy opening door for quick access.
Quick setup and take down.
Be light enough that 1 person can carry.
Able fit 2 queen size blow up mattresses.
Colman 8 person tent full rain fly specifications.
| | |
| --- | --- |
| Coleman 8 Person Montana | Specs |
| Outside dimensions | 16 ft. x 7 ft |
| Inside Ceiling Hight | 6 ft. 2 in. center height |
| Suitable for High Winds | Yes  Insta-Clip heavy-duty pole attachments that stand up to very high winds. |
| WeatherProof | Yes, WeatherTec System— patented plastic welded high wall floors and inverted stitched seams keep all of the rainwater out. |
| Inside Tent Pockets | Yes |
| Time to setup | Easy, 15-minute setup with color-coded poles |
| Carry Bag | Yes, Large easy fit carry bag with separate bags for the poles and stakes. |
|  Power outlet hole | Yes there is a hole and flap so can bring in your extension cord from the power generator. |
|  Where to buy | |
Check out the Coleman wind and rain tests
Coleman Montana 8 person tent review
Coleman makes some amazing products from eskies, blow up matrasses, swags, hot water showers, BBQs, and of course their world famous tents. So I was really excited to check out this Montana 8 person tent.
Having 3 kids means we needed an 8 person tent so that we have some space for everyone. Whats great about Montana is how it has been designed for comfort.
I really like the weatherproof rain dome in the front. It's just like a pergola where you can sit and enjoy the scenery if the rain is falling hard. In fact, the rain fly covers the roof fully and extends down to the windows. This is a nice feature so even though it may be raining you have the choice of opening up the windows to let in some breeze. Zipping up the 2  flyscreen windows makes the tent fully weather resistant again.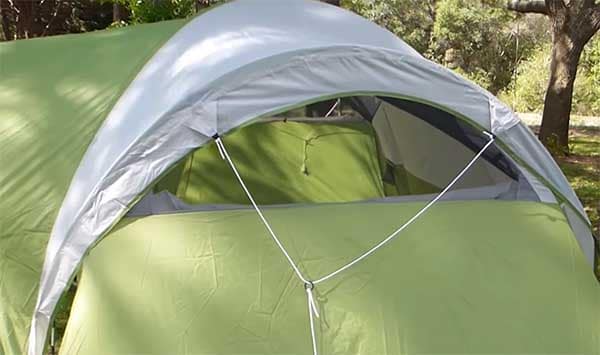 Weather Proof Technology
Colman has designed 4 tent technology areas that have made their camping tents totally weatherproof.
Protected Seams – On most other tents the seams are just single or double stitched between the canvas. Each stitch means there is a hole which can cause water or moisture to leak through.
Colman inverts their seams first and then stitches them. this means that the sewing machine stitch holes are inside the tent and not on the outside.  The rugged poly floors touch to resist sharp rocks and sticks, and the taped fly window seams repel the rain.
Strong Wind Tent Frames – The poles on all tents are the week points. Coleman makes their tent poles out of strong 11mm shock-corded fiberglass. These are quick release to make setup and pull down easy and simple.
The tent poles are of a large diameter and supported in more areas to help keep the tent from collapsing under high wind conditions.
Zipper Weatherproof – All of the zippers on the tent are weather resistant with special waterproofing on the fabric. This means the fabric protects the zipper so water cannot enter the tent from the zipper location.
The nice shape of the tent means there are no dead spots where water can pool and leak through. The Montana 8 person tent has been architecturally designed to look appealing resist rain and wind.
Tent polyethylene floor – The tent floor is made out of strong polyethylene which has welded seams. This means there are no needle holes for water to leak into to. A nice fold out outdoor floor mat folds out to keep dirt outside of the tent. The floor goes up the side of the tent for around 6 inches.
Frequently Asked Questions:
What comes with the tent?
The Coleman Montana 8 comes with tent stakes, rope, floor mat, quality large diameter poles and the rain cover. A large storage bag is also included. I replaced my tent stakes with larger diameter ones so I can use a hammer in the hard ground.
Can the Montana 8 Person tent Fit 2 Queen air mattresses?
It sure can and you will still have space to spare. We use one queen air mattress and the kids have 3 single person swags. Plenty of room. Don't forget to bring the air pump, otherwise, you will spend half the night blowing up the air mattress.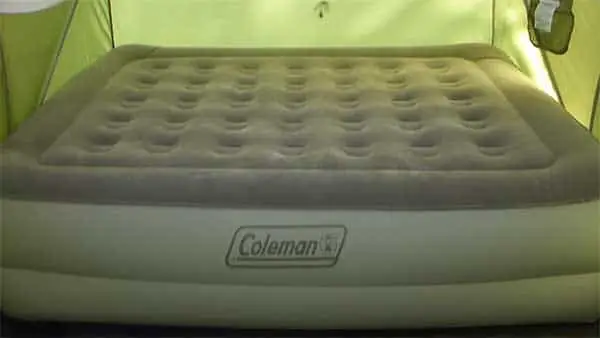 Why did I buy an 8 person tent if there are 5 people in my family?
Well first off, you have to realize that tents are marketed for the maximum amount of people they can sandwich in side by side.  In shopping for a tent a 4 person tent is only really good for 2 people and their luggage. A 6 person tent is really only good for 3-4 people. 8 person tents are good for 4-5 adults and their gear to be comfortable without sleeping head to toe.
How long does it take to set this tent up?
Once you have had some practice and know what you are doing two people should be able to set up the Coleman Montana 8 person tent in around 10 to 15 minutes. This is a full setup with tent pegs and rain cover.
Can you run an electrical cord into the tent?
Yes, you can there is a small Velcro flap and zipper set up to poke an electrical cord into the tent. We use a Honda generator and around 20m of lead to run power into the tent for lights and power.
How does the door seal
The Colman 8 has a large swing door that can be closed by either using the zipper or by using Velcro. Both options are great especially at night we don't leave it zipped up only use the Velcro and it's good enough. That way you are not making a lot of noise or searching around for the zipper. Just push on the door and it will open.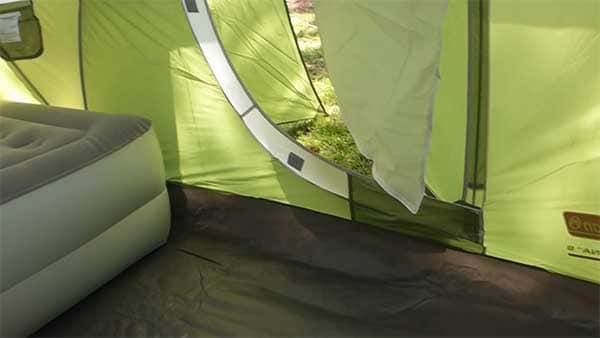 After camping air out your tent.
One of the most important things you can do for your tent is to air it out after your expedition. Folding up a tent without the proper care will cause mold and damage to your tent waterproofing.
Be sure to put up your tent again when you arrive at home. No need to stake it down unless its windy. If you do this during the midday it will dry out really fast. Make sure to also put on the rain cover to dry that out as well. We can now vacuum or sweep out any dirt that is inside the tent.
Once it's all dry you can refold up the tent and pack it away. Be sure to place it in a cool dark storage area so that it won't get sun damaged or damp again.
Conclusion
I'm very happy to finally have a quality tent that our whole family can use not only for camping but for that emergency one day when we will have to bug out fast. Coleman sure has made a great tent that is fast to put up and very spacious.
It's the little details that set the tent apart from the competition like the power outlet hole and the double inverted weatherproof stitching. The nice shape also adds to the appeal as well as being functional to direct rainwater down to key areas as to not pool on top of the tent.
As an electrician and a survivalist prepper, I want to share some of my ideas, thoughts, hardware, and survival techniques I have learned over the past 20 years. The world is changing fast and we need to be repaired for what may come if society breaks down.