Taking care of your leather boots for work or hiking can preserve their life and save your feet from getting blisters. As an electrician working in the mines I was finding that my steel capped leather boots were failing within 1 year of purchase. This is mainly due to the leather cracking due to drying out over time.
Walking in the dirt, mud, cement, and chemicals sure doesn't help the leather. So the quest was on to find the best water repellent for my boots. In a survival situation, I want my boots to be dry and crack free.
After much research and asking a lot of my workmates I decided to try out Huberds shoe grease. Wow, what a difference it made in a short time. So this year my boots became softer, they stayed dry, and actually didn't crack near the toe.
Huberds Shoe Grease review
Just like our skin, leather boots, jackets, and gloves need a moisturizer to stay pliable and in good condition. This is where Huberds shoe grease comes to the rescue. It is a natural product made out of beeswax and pine tar.
I like that it has been designed to condition and restore leather oil-tanned work boots and protective clothing while retaining breathability. It looks like thick custard and smells slightly smokey. I think this is because of the pine tar. Don't worry the smell quickly fades from your clothing.
This waterproofing boot wax is a non-toxic formula and contains no animal fats, synthetic compounds or preservatives. So it is safe for your expensive leather boots and jackets.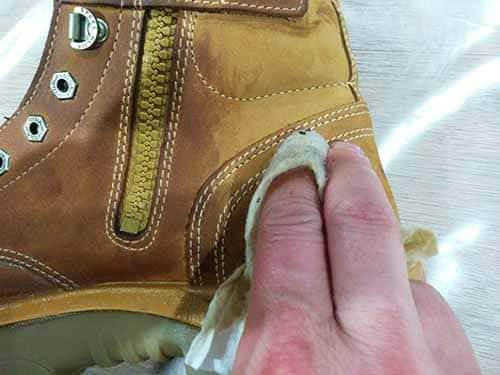 I did find that it will slightly darken your leather boots but I actually think it makes them look better. The shine actually lasts a long time with dust, dirt, and grease simply being able to wipe straight off. The dirt won't penetrate into the work boot and stain them. I did find that the zipper on the side of my boots became easier to use and a quick wipe off the excess wax stops the zipper from gumming up.
Because my work boots are Suede adding the Waterproofing product will give it a slight wet look for a while. This makes the boots look slightly darker and gives it the always new look.
This shoe conditioner is designed to soak into the leather and add the necessary oils that your leather needs to stay in good condition. I found that I needed to reapply it every few months when my boots started to look dried out.
Leather work boot care – Why leather boots crack
When a leather boot gets wet it will soak up moisture and become pliable, but as it dries out the leather natural oils will rise to the surface and be swept away with dirt, dust and general usage. These oils also naturally come to the surface with usage. This causes the leather to become brittle and crack over time.
This is why it is very important to apply a natural leather dressing to your boots to keep them pliable and looking great over time. That is why I decided to test out Huberds Shoe conditioner for my new boots. Buying new work boots every year cost too much money, especially steal caps.
How to apply leather dressing for boots
Applying Huberds shoe grease for leather is a simple process and it will only take you a few minutes.
Remove your shoelaces.
Wipe down your leather boots with a dry brush. For a deeper clean use a product called saddle soap to remove any excess dirt and dust.
Completely dry your boots before applying the Hubers shoe grease
Mix the shoe grease for 30 seconds and then either apply with a small paint brush or a rag. Work into all areas especially the seams.
Plase your leather boots in a warm area overnight so the leather can absorb the leather dressing.
After 12 hours you can wipe off any excess shoe grease for a nice clean shine.
Reapply every few months for long-lasting leather work boot care.
How often should you condition leather boots
Once a week you should wipe down leather boots with a damp cloth. More often if you are working in a muddy, dusty environment. Every 3-6 months rub in a good quality leather conditioner wax. More often if you like your leather boots to be softer.
If they are wet, dry them outside in the shade. Direct sunlight will damage the leather over time.
I like my ankle high boots to be fairly soft as I do a lot of walking in my job so I will use the Huberds shoe wax every couple of months. If you are in the armed forces then rub them down with wax every month to keep your military boots soft and shiny.
Can you use olive oil for leather boots?
It is not recommended to use olive oil to condition your leather boots as over time it will stain and tan your boots darker. Olive oil has always been considered the poor man's leather softener. In the long term, it is best to use a high-quality leather shoe dressing and waterproofing conditioner that has beeswax as an ingredient.
Black shoes won't stain and tan as much as brown shoes will when using olive oil. So you can use it in an emergency such as if you are later for a business meeting or wedding then olive oil will be fine. Just be sure to fully wash off the olive oil the next day.
If you want the best leather work boot care product then stick with Huberds, you won't be disappointed.
What else can you use Huberds shoe grease for?
Because this grease is long lasting it will be safe to use on all leather products. Even fake leather can benefit from extra waterproofing and sun protection. We have used this on stitching for boat vinyl and tent lining that is exposed to rain that was leaking slightly. Guess that's the reason we upgraded to a better Coleman waterproof tent.
Be aware that as it is a slight brown color it will darken the area you will be waterproofing.
I have used this leather waterproofing wax on the following items.
Shoes and boots.
Tent stitching.
Cars, boats, and hot tub vinyl.
Leather Jackets.
Car leather seats.
Leather headphones.
Leather Lounge chairs.
Belts.
Leather Hats.
Cricket balls to improve shine.
Leather motorcycle gloves.
So as you can see if its made of leather you can use Huberds leather wax to protect the item and make it last longer.
Conclusion
Taking care of our leather work boots is usually the last thing on our mind. But if you can take a little bit of extra care you can make your boots last two or three times as long. This will put money back into your pocket and make your boots comfortable on your feet.
I used to only get around 10 months use of my steel capped boots due to them cracking on the sides. Now its been over 2 years and still going strong. My favorite boots have been the Timberland Pro brand as well as Bates ultra lite work boots. Especially if you have to do a lot of walking on construction sites.
If you take care of your working boots they will take care of you.
As an electrician and a survivalist prepper, I want to share some of my ideas, thoughts, hardware, and survival techniques I have learned over the past 20 years. The world is changing fast and we need to be repaired for what may come if society breaks down.