I am constantly amazed at the quality of 3D printed survival gear that can be produced on any basic 3d printer. I have been 3d printing camping accessories for the last 2 years with great results using my Ender 5 pro 3d printer and PETG filament.
I prefer to use PETG filament as it is less brittle than PLA filament and it last longer outdoors. PETG has the following properties:
Durable and tough
High impact strength
Good clarity
Easily formed, die-cut, and 3D printed
In this post, we will go over some of the more useful 3d printed camping gear that you can print from home cheaply and easily.
Most of the 3d files mentioned here are free to download and use.
3d printed survival gear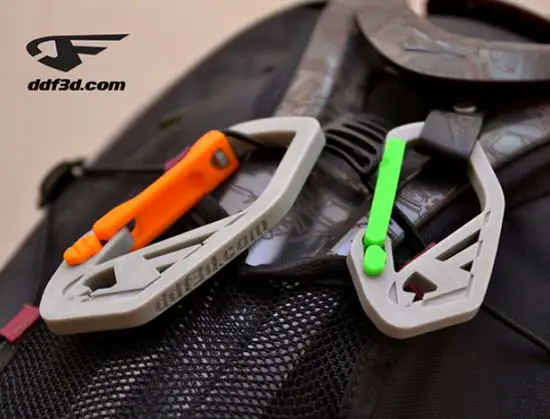 The flex door carabiner comes with only 2 parts, a hook, and a door. It is very easy to assemble and easy to make. You can scale for your preferred size and need. These are great for backpacks, tents, and tactical vests. These printable carabiners are the perfect addition to your survival gear bug-out bag.
The scaled capacity of 75% to 120%.
Design for general FDM 3D printer print by PLA, PETG, or ABS material.
No additional support is needed, and it is easy to print.
The fast print design makes general print time around 45-100 min.
When I print on scale 1, I use the following settings infill 50% or above, nozzle 0.4mm, shell loop 3. This 3d printed carabiner general can handle 15-35kg load. The design can print without support and raft set.
Layer high from 0.15mm~0.3mm is fine. Infill better to use over 50% for strength.
Talon Utility Knife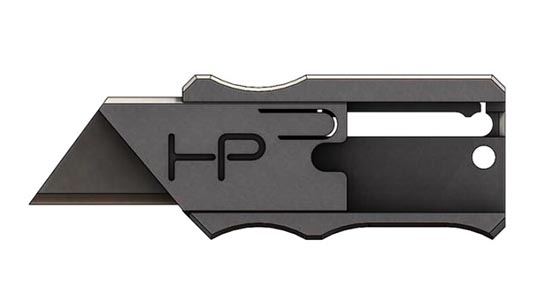 The Talon utility knife is made to fit neatly on a key chain so whether you're in need of a knife you'll always have one nearby.
There are two versions
Talon Body Locking
Features locking mechanism which keeps the blade inside the body. Two hands are needed to unlock and deploy the blade. This version is quite safe.
Talon Body Snap
Uses a snap mechanism instead of locking so the blade can be deployed with one hand. It is extremely important to monitor the wear and replace as necessary, and to refrain from storing in direct sunlight. Print in PETG for added strength and longevity.
Matches bottle case with soda pop bottle threads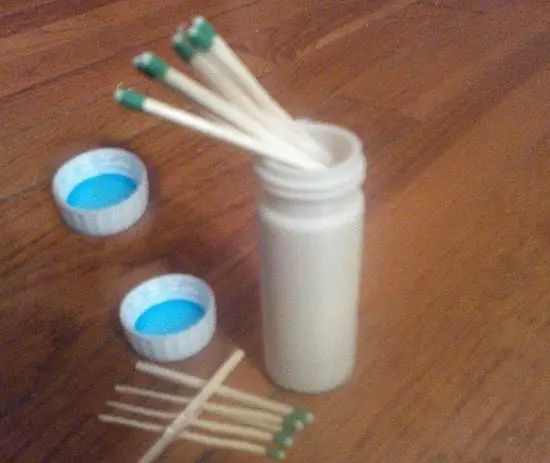 These match bottles are great for 3d printing and you can use a soda bottle cap to seal them tight to make it waterproof. It's a simple, durable match case that's long enough to hold strike anywhere matches. Plus there is extra room in the bottle to store a little tinder like a cotton ball or two.
The top is threaded to fit standard soda bottle tops which give a good waterproof seal on the bottle. 3D printed caps don't seal as well. Strike-anywhere matches will strike on the side of the 3d printed survival bottle.
3d Printed camping gear
Tent Peg Spike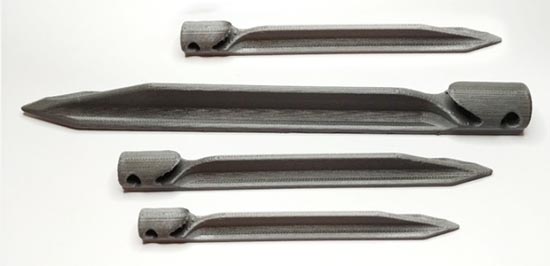 This 3d printed tent peg spike has a large head to pounded into the ground with a hammer. If you print this spike with PETG it will last longer than PLA which can be brittle.
Print it with a resolution of 0.2mm and 100% infill for strength. You can resize the tent spike with your slicing program to get the best size for your application. These are a must for anyone needing 3d printed camping gear.
Credit Card Cutlery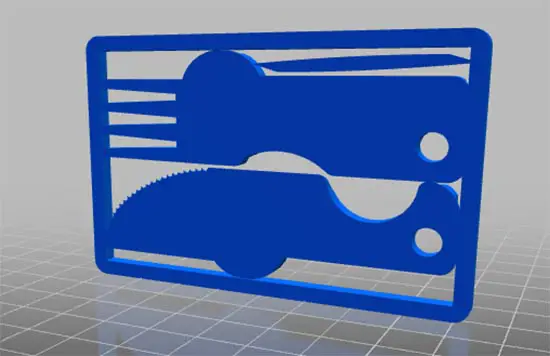 The credit card cutlery set is cool. It comes in a small form factor and can be pulled apart when you need them. Keep one of these in your wallet or purse just in case!
These little guys print fast, like less than an hour fast. And they're the same size as a credit card (just thicker) so they don't take up a lot of space. They're ergonomically designed to work well even with their small form factor!
I like to scale them up to around 150% when used for camping. Just print out a few sets and keep them in the glove box in the car.
3d printed clothes pegs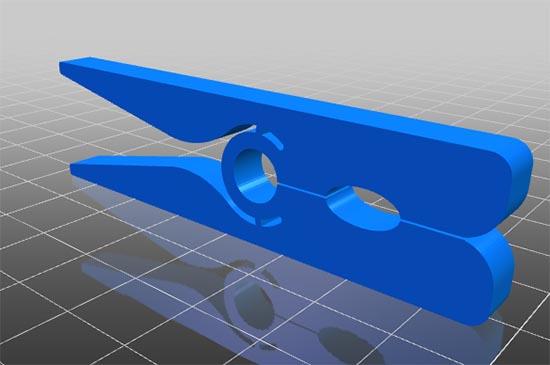 These 3d printed clothes pegs need no spring as it is already incorporated in the design.
These one-piece, easy print clothespins are perfect for camping, on the beach, or as a replacement for your wooden pegs. These clothespins are more durable than traditional wooden clothespins and last longer. Make them out of PETG for added lifespan.
3d printed tick remover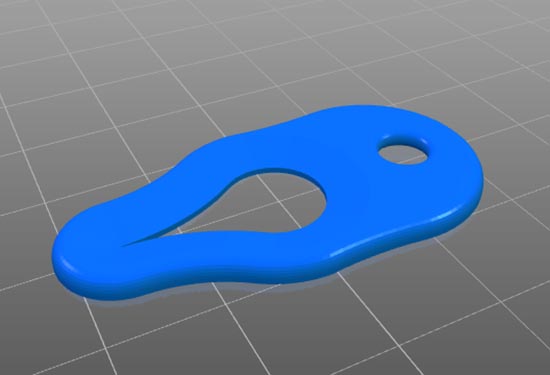 If you go hiking in the bush sometimes ticks can find their way onto you or your pets. This 3d printed tick remover is perfect for removing them safely.
As small as a dog tag so it can be tied onto their collar, a keychain, or in your wallet. Small enough to always carry in the car.
Weighs nearly nothing, ~1g of PLA or PETG material.
Fast print with stock settings of 0.2mm layer height and 20% infill.
Smaller than store-bought, so it fits into tighter areas where ticks like to hide.
Has a keyring hole.
My Ender 5 can print around 35 at one time just duplicate them in Ultimaker Cura. This way you can hand them out to other campers and hikers.
How to use:
For example, if you have a tick on your leg, just lay the 3d printed tick remover flat on your leg with the tick in the large center opening. Then slide the remover to the small opening so the tick is snared around the neck. Then lift and the tick comes out whole.
Since the tick is pinched at the neck and not being squeezed it cannot regurgitate back into the skin which can cause complications.
I have been using these for years and they work great. I have great success with them removing the entire tick.
It is a must for any serious 3d printed survival gear prepper.
Tent rope tensioner
These 3d printed tent rope tensioners are great if you lose the original or it breaks. They are designed to quickly tighten the tent stay cord. Over time the sun will deteriorate the original plastic tensioners and they will break. This fixes the problem.
Print with PETG and 80-100% infill for strength. They are small so you won't youse much filament.
3d printing hunting accessories
Adderini 3d printed tactical crossbow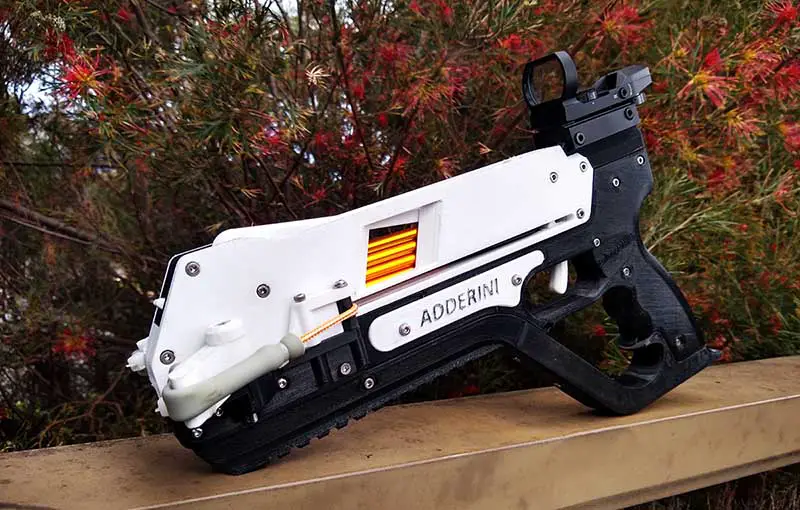 I 3d printed the Adderini sling bow tactical pistol out of PETG filament. This project took over 55h to produce but was well worth it. This sling bow is accurate at 10m using 6.3-inch crossbow bolts.
There is storage space for 6 bolts in the magazine and is powered by Theraband silver rubber tube. It's a fun backyard target practice 3d printed pistol crossbow that is powerful enough to take out a rabbit or small rodent using broadheads.
Check out the Adderini in action in the video below.
Survival fishing spear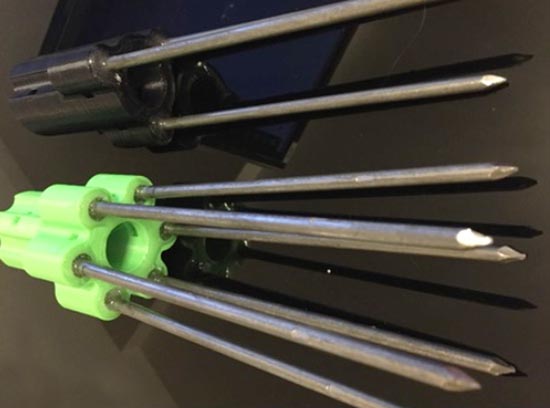 The survival spears for fishing & hunting is a cool 3d printable adapter for the end of a wooden pole or stick.
Just add 3 or 6 tent peg nails or Giant construction nails and a 1″ thick long wooden stake and you are sorted. You have two options to print a 3-prong spear and a 6-prong spear.
ITEMS REQUIRED:
6, 8, or 10mm giant construction nails or tent peg nails
1″ Wooden Stake
Zip Ties
Elastic Band
5 min Epoxy
You should be able to scale the internal hole size if you have a different size 1-inch wooden stake. I really like this 3d printing hunting accessories for fishing.
This 3-d printed survival spear is cool and it takes me back to when I used to make my own fishing spears out of bamboo.
Fully Printable Fishing Rod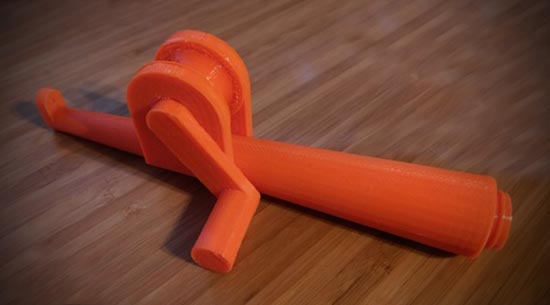 The 3d printed fishing reel and rod are great for hiking, survival, or camping. It is small enough to fit into a pocket or backpack so you can fish anytime. The new version has the handle hollowed out so you can store a few small items such as hooks, floats, and sinkers. It is a great little 3d printing hunting accessory that can be left in your car for yourself or the kids.
There is a threaded end cap to keep it all safe and secure. The spool can be configured for either left-handed or right-handed when you assemble it.
Check out the video below
3d print tent stake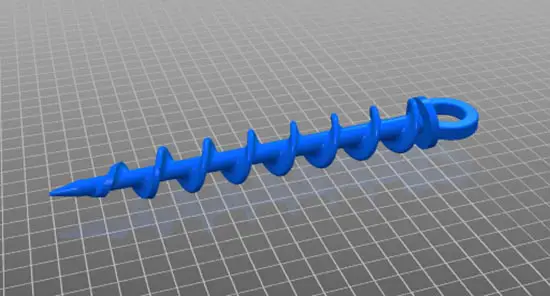 The spiral ground anchor aka twisted tent peg is an excellent free download for your tent or tarp. It is designed for softer ground mediums like sand, and soft soil.
It is best to make it out of PETG which will handle the twisting loads better than PLA filaments. Make sure to print with 100% infill and scale to your needs.
For a stronger larger peg try this T handle screw sand peg.
In my experience, if you hit a 3d printed tent peg with a mallet or hammer they tend to break. This is why I go for the hand-twisted 3d printed tent pegs.
PETG filament printer settings for outdoor use.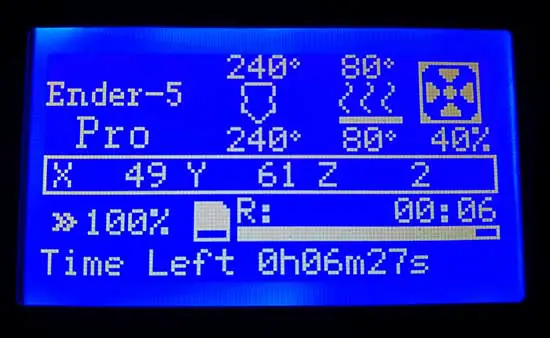 Most designs mentioned here are optimized for 3D printing with a layer height of 0.2 mm. For the purpose of strength and durability, I recommend printing all elements with an extrusion width of 0.45 mm, a wall thickness of 2.25 mm (5 shells/perimeters), and bottom/top walls thickness of 1.2-1.6 mm, and an infill of 25-30%. Retraction for my ender 5 pro is set at 6mm.
For load-bearing items such as carabiners, and tent spikes it is best to print them with 100% infill.

I also recommend printing at a slightly higher hot-end temperature than usual. So for PETG I print at 240 deg Celcius on the extruder and 80 deg celsius on the heated bed. This will give you a strong bed and object bond. I also recommend printing on a glass bed or PEI-coated steel sheet to make the surfaces smoother. Your 3D printer should be well-calibrated (extruder steps, flowrate, first layer height).
Conclusion
Let me know in the comments below what you like to 3d print for your prepper and camping activities. I will include them in this article. Although if you like a more serious camping trip then check out our post on 3d printed gun accessories. It is amazing what people will come up with.
I have made a few adjustments on my 3d printer so see my top 10 Ender 5 pro upgrades. They are easy to print and will help improve your final 3d print results.
If you have any issues with your 3d printing drop me a message and I will try and sort it out with a few tips and tricks. Happy 3d printing everyone. It's the future.
As an electrician and a survivalist prepper, I want to share some of my ideas, thoughts, hardware, and survival techniques I have learned over the past 20 years. The world is changing fast and we need to be repaired for what may come if society breaks down.