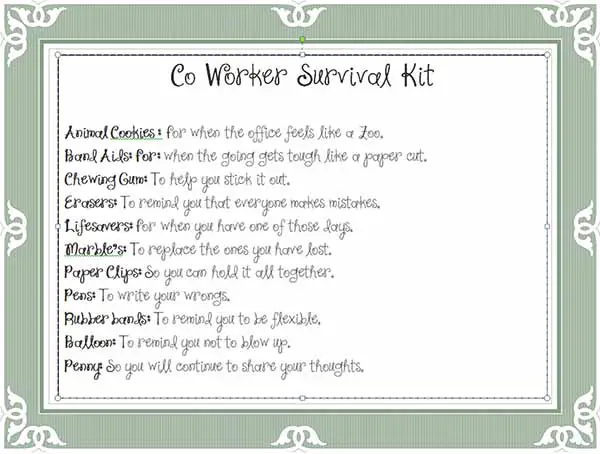 So your office is a zoo and you would like to put some fun and enjoyment into your gift for your co-worker or manager. We have gathered together some great funny Co-worker survival kit ideas to get you through the year with as much fun as possible.
Co-Worker Survival Kit Ideas List
This is where you can let your imagination run wild. Coffie mugs are a great simple idea that will be used multiple times a day. One of my favorites is the "Let me drop everything and work on your problem"
This extra-large mug holds a generous 13 oz of your favorite beverage in a tough thick clear glass. So when someone comes over to ask for advice or needs some help, hold up your mug and point. I always get a laugh out of it, but as I'm a nice guy I'm always happy to help.
Motivation stress balls can pass the time, relieve stress, build muscle in your hands and motivate you. These are great for school teachers, students, office coworkers, employees, managers or just gifts to motivate your staff.


Whats great is 10% of all profits go to the Teacher Peach Seeds fund that's used for teacher-driven initiatives that help raise confident and creative kids.
Emergency office pen
These tactical office pens will make any office worker a hero. Built tough and having multiple uses this pen could save your life one day.

I constantly get asked about the pen from my fellow workers so I tend to get them some from time to time. With features such as LED light, screwdriver, hex spanner, glass breaker, bottle opener and easy flowing ink they are great. Check out our full review of this real survival tactical office pen.
Free Funny Co-Worker gift ideas
This list is sure to put a smile on everyone in your office. It is a list of items for a funny Co-Worker Survival Kit for your teammate or manager. You can download this free PDF co-worker template shown below.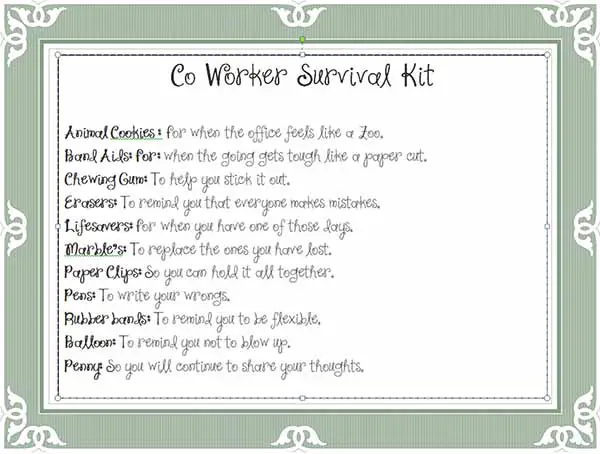 Animal Cookies: For when the office feels like a Zoo.
Band-Aids: For when the going gets tough like a paper cut.
Chewing Gum: To help you stick it out.
Erasers: To remind you that everyone makes mistakes.
Lifesavers: For when you have one of those days.
Marble's: To replace the ones you have lost.
Paper Clips: So you can hold it all together.
Pens: To write your wrongs.
Rubber bands: To remind you to be flexible.
Balloon: To remind you not to blow up.
Penny: So you will continue to share your thoughts.
Gather up all the items in this list mentioned above and pack it in a box. Print out the certificate and you are good to go. I guarantee everyone will get a laugh out of this funny co-worker survival list.
Awesome citation notepad office notes
Now, these are guaranteed to make someone's day. Knock, Knock are the makers of these clever notepads and there is a whole range of different sayings and colors to choose from. They are 4 x 5.25 inches and come with a 50 sheet pack.
Extra funny notepad options include:
Chill Out
High Five
Hot Gossip
Hot Mess citation
Parking Citation – I like this one and always have one in my car to put on badly parked cars.
OMG
Over It
Thanks a bunch, and many more.
You can check out the full funny notepad list here at Amazon.
Stand out from the crowd and get your palls something different. It doesn't need to be expensive just original and funny. Let's stay motivated in this rat race and cheer up our buddies, friends, and co-workers all year round.
As an electrician and a survivalist prepper, I want to share some of my ideas, thoughts, hardware, and survival techniques I have learned over the past 20 years. The world is changing fast and we need to be repaired for what may come if society breaks down.