It's not the end of the world yet, but sometimes there are emergencies in the office that make me think that the sky is falling. Having a heavy duty tactical pen in my pocket makes me think I could save the world one day.
Now I'm talking about your cheap no-name aluminum pen. This tactical ink pen from Bellfyd is made from high-quality military grade tungsten steel. I love that it's all silver and solid as a rock as this adds to the incognito appeal. Best of all you can take this pen out of the office and use it for everyday activities, it's not going to rust the following week.
Many other substandard tactile pens are all black and look a lot like a center punch.  Whereas the Bellfyd oozes design and functionality mixed with practicality. In my opinion its the best tactical pen for the money.
What tools are included in this self defense tactical pen?
Hidden within the normal looking pen is a whole range of life-saving options.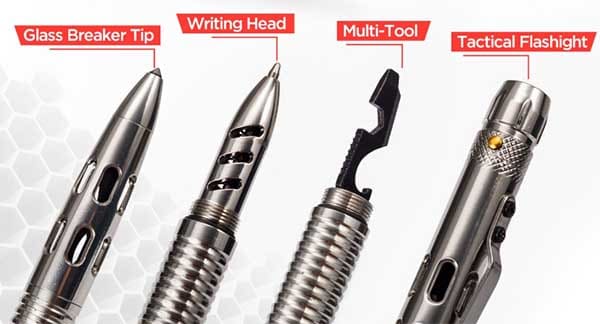 Features a window breaker sharp point.
Made from military grade tungsten steel.
Easy flow ink tip.
Bright LED flashlight.
Multitool,  Flathead Screwdriver, PC  size 4 screw wrench, and a bottle opener.
Perfect for firemen, police officers, accountants, first responders and many, tradesman and many other occupations.
Each tool can be accessed with a quick twist of the appropriate cap. This survival pen breaks down into 3 distinct tools which are a handy feature.
Bellfyd Tactical Survival Pen review

I purchased a few of these tungsten tactical pens as Christmas gifts last year for a few friends after owning one myself. The toys for big boys factor sold me as I was really impressed with the quality and ease of use. I have the power of a military grade swiss army knife of pens in my pocket. In fact, I have a few extra now which have been included in the family's bug out bags.
Everybody uses a pen during their week so I know its a cool gift. I use this self-defense pen at work and while it works well it is quite heavy. Not heavy enough that you notice it in your front shirt pocket but heavy enough if you have to write a big report your hand will get a workout.
Now, this is a good thing as if you need to smash a window you need a strong heavy object. Not something that will break on the first real-world use.
I like that each pen tool section is hidden and easily accessible. The torch is nice and bright and its great that it comes with spare batteries. This survival pen also comes with a spare refill so it's going to last a while.
The gift case that it comes in is really nice. It holds the spare batteries and ink refills.

The pen and torch can separate so if you need to write at night you are able to shine some light on your work. Its the perfect save your life pen for the home, car or office.
How to change the batteries
To change the batteries you only need to unscrew the LED torch end cap. This exposes the old batteries and the spring. Be sure to use only LR936/394 Alkaline Button Batteries.
How  to use a tactical pen
Most people think that unless you are in the military you would have no use for a self-defense tactical pen. But I tend to disagree, the amount of times I have used the torch and internal tools has really been a lifesaver.

The 4  main components of this pen are:
Torch Led flashlight is always being used at work to look into electrical cabinets.
Easy flow ink ballpoint pen. I like that it comes with a free refill.
Internal tools like the screwdriver and size 4 socket hex wrench. Can come in handy when working on computer parts. I use the bottle opener a lot on a Friday night. Spins people out and they call it the badass pen.
The glass breaker looks tough and apart from a trial use on an offcut of glass I haven't had a real use for it. That's a good thing. If you do need to use the glass breaker wrap your hand in a tea towel and hold the pen firmly. Strike the car or building window hard and fast. Do not push through the window yet as you may require multiple strikes. Kick the window open with your shoe now that its shattered.
Conclusion
Standout from the crowd and be a hero in your office. Who knows this small self-defense tactical pen may one day save your life. I'm a big fan of any item that can help me be prepared as a survivalist.
Something this simple and affordable sure packs in a lot of features. This pen will stay with me for life it simply can't be faulted. I carry this pen every day and I dread the day its full potential will be realized.
As an electrician and a survivalist prepper, I want to share some of my ideas, thoughts, hardware, and survival techniques I have learned over the past 20 years. The world is changing fast and we need to be repaired for what may come if society breaks down.