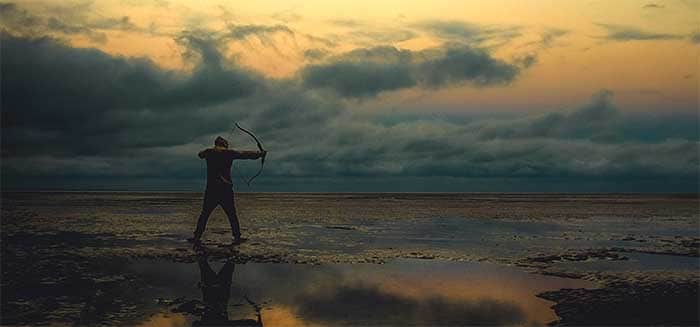 Getting yourself ready for when you may be required to leave or defend your home is something I have been considering for a while now. Having a few months of food storage is a great start but what happens when that runs out?
We live near a national park that has wild animals and fish in the river. So having a hunting weapon was always on my list. The options are vast I could go with a small-caliber rifle like a .22LR or an advanced compound bow.
My wife is not a fan of guns even though I have grown up with them. So to respect her wish we all joined an archery club and learned to shoot compound and recurve bows.
Prepper Hunting with a compound bow.
The main food targets we have in our area are rabbits and deer. If you are getting serious about the survivalist game then apart from the Military meals ready to eat which you should already have a large stash of, we also have to be able to hunt for our own food. Stealth and patience is the name of the game. Make sure you are wearing some camo gear. This includes jackets and pants.
Rabbits also come out early morning and late in the evening. I prefer to hunt in the late afternoon because I enjoy a sleep-in. If the rabbits get into my vegetable patch it's game on.
I like to take my Raptor compound bow out as it's light, quiet, and easy to shoot even for novices.
Raptor Survivalist Compound Bow Hunting Kit Review
I really like that this Raptor compound bow is adjustable in so many ways without the need of a bow vice. This means its suitable for men and women of various sizes and strengths.
I like my draw weight at around 55 lbs. This is a nice quick easy pull for me for when I need a shoot in a hurry. But this bow can be set up to 70lbs which will give you a speed of 315fps which is amazing.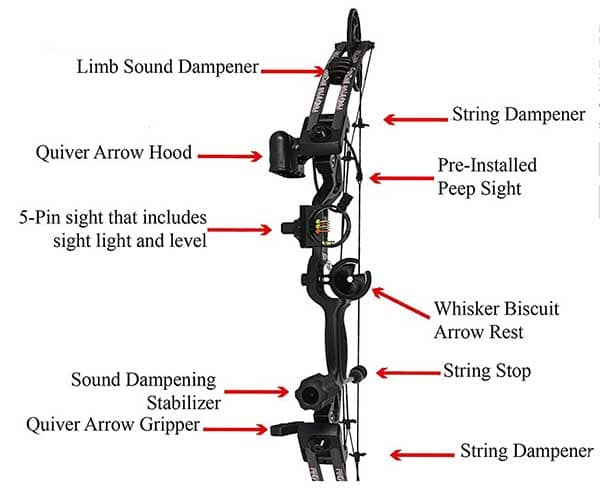 The draw length is adjustable between 24.5 to 31″ and draw weight from 30-70 lbs all without needing a bow press.

Bow Cams are fully machined one-piece aluminum with ZERO plastic which is often found in many other bows in this price range.

This bow has an axle-to-axle

length of 30″ and weighs in at 3.6 lbs.
Sports a best-in-class 315 ft per second when at max pull setting with a 350-grain arrow.
Good Quality accessories. Such as a 5-pin sight with light and level, a Whisker biscuit style arrow rest, and a stabilizer. String Peep sight and loop come pre-installed.
This compound bow design allows for 75% of the weight to be let off. For example, if you pull 70 lbs you only have to hold 17.5 lbs at the full draw.
The Raptor also features a split yoke tuning system, allowing for precise adjustments and proper arrow flight.
Riser and cams are made of aluminum, with the limbs made out of fiberglass in the good old USA.
452x bowstring which is very good quality.
Features of all the accessories
Whisper Biscuit Arrow Rest
The whisper biscuit has been designed to control your arrow through the full length of the flight until it gets passed the bow. The fine brush tips allow the arrow fletchings to pass through on obstructed.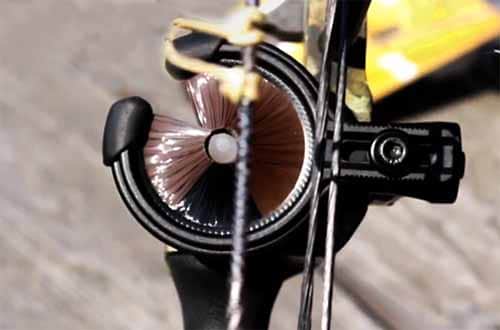 I prefer to use straight arrow fletchings rather than the spin or helical ones as they will pass through cleaner than a twist fletch.
I have yet had to replace my whisper biscuit and I reckon I have over 700 shots through it to this date. I personally think they are great and a lot better than my older drop-down rest.
Sound Dampening Stabilizer
A good stabilizer not only balances the bow it also soaks up the vibration that the arrow and strings produce in the bow riser. Attached to the bowstrings at each end are 2 little string dampers. These also cut down on the noise made by the bowstrings coming in contact with themselves.
A quieter hunting bow means you are more stealthy in the wild. These 2 additions make this bow very quiet on the draw as well as on the release.
Anyone who hunts rabbits knows that having a quiet weapon is the name of the game. If you miss the rabbit often you can reload and have another shot before the rabbits take cover. Guns make too much noise and often they will scatter.
5 Pin Bow LED sights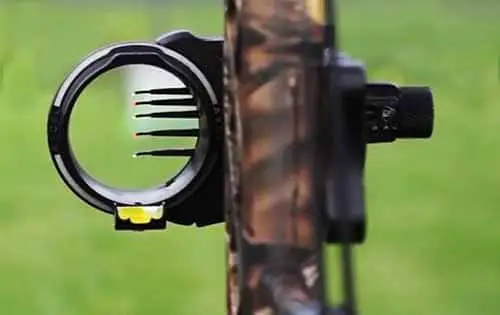 Every bow needs some sort of sights for an accurate target arrow placement. These 5 pin adjustable sights are perfect for this compound bow. What I really like is the addition of a small LED light.
This makes survivalist hunting at dusk and early morning such a pleasure as I can actually see my target range sights. I like to set my sights on myself at certain ranges that I know. For example 10m, 20m, 30m, 40m, and 50m.
This way I can take a quick guess of the range and then plug away. I set these up on a range with targets at the appropriate distance.
Quiver arrow gripper and hood
Having arrows attached to the compound bow adds a little extra weight but also adds convenience. I do carry another set of shoulder back quivers for an extra stash of arrows.
In an emergency, I want to be able to grab the bow and know I have arrows ready to go in a split second. If this is for your protection at home or in your prepper shelter then it's a great idea.
Hunting small game rabbits – Best arrowheads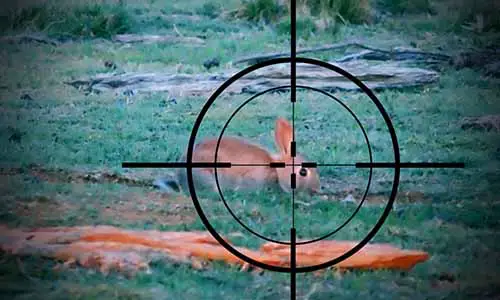 Rabbits are a lot easier to knock out with the correct arrowhead attachment. Sure you can use target heads or broadheads but they will get destroyed fast if you miss. The best rabbit arrowheads to use are Judo points.
These 100-grain judo arrow tips are designed to catch the grass if you miss it so you don't lose your arrow. The 4 spring hooks will also wrap around the fur off the small game. But the main damage is caused by the sudden impact.
These judo points will screw into your normal arrow ends and are easy and cheap to replace if they get damaged. But I have yet had to replace any as they are super strong.
100-grain stainless steel head for greater stopping power

Designed for small game hunting like rabbits and squirrels.

Compatible with all Recurve bows, Crossbows, and Compound Bow bolts.

Fit for any Carbon Aluminum arrow shaft

1 1/8 inch Cutting Diameter
3d Printed Pistol Crossbow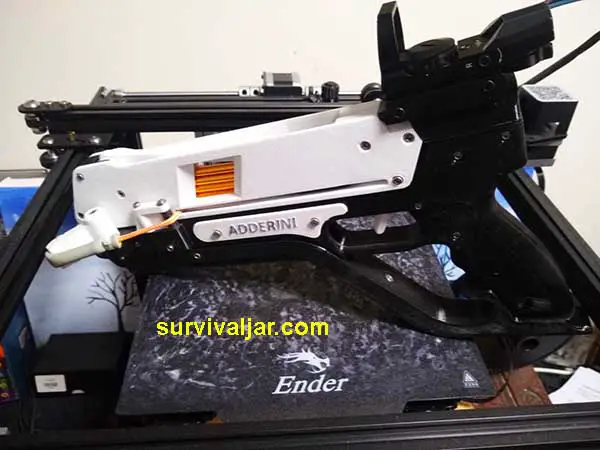 Even though the pistol crossbows are small they still take up a fair bit of space in your bug-out bag. A good compromise is the Adderini slingbow. I was able to print out a sling bow called the Adderini that is just as powerful as a 50 lb pistol crossbow.
The compact design means they can be concealed in most bags, under car seats, under the bed, or in a gun safe.
Check out my Adderini sling bow firing some pistol crossbow bolts.
Power over Concealment
The main reason I have this bow is two-fold. In its class, it's the best for the money, and I needed a heavy hitter that can do 300 fps (feet per second) if shooting large game or intruders.
My other second bow is the SAS tactical survival folding bow. The fact that I can fold it up to around 21 inches and hide it in my backpack means I can travel incognito. For a survival archer, this is the most important trait. It keeps your hands free and setup will only take a couple of minutes.
As a prepper, you need to be prepared to provide for and defend your family. Sure guns have a place but for a low-noise solution, you sure can't beat the good old bow and arrow.
Some Crossbows are very powerful and very compact. I do own both and I find that the crossbow is a lot louder than my compound bow. If you do decide on a crossbow then make sure to get a good scope and be sure to sight in your scope to the crossbow at different distances.
As an electrician and a survivalist prepper, I want to share some of my ideas, thoughts, hardware, and survival techniques I have learned over the past 20 years. The world is changing fast and we need to be repaired for what may come if society breaks down.