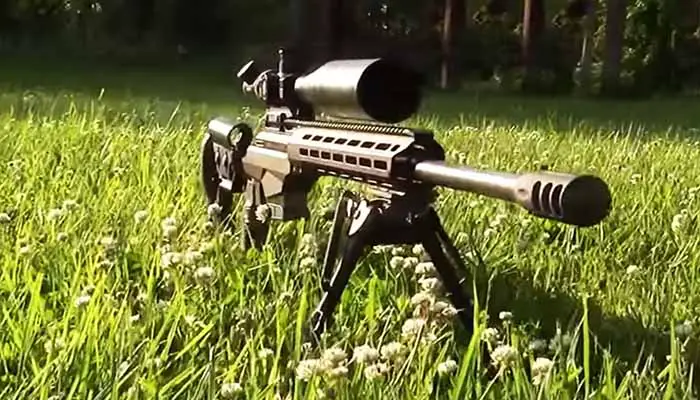 Having a Bipod on your bolt action rifle can greatly improve your accuracy either at the range or out hunting. In this article, we are going to review the new Twod Harris clone Bipod for sling studs and Picatinny rails.
What makes this rifle bipod so great is the fact that it can mount to any rifle sling stud from .17HMR all the way up to .458 caliber rifles and everything in between. In my opinion, this is a great upgrade for those wanting a cheap bipod for their Rugger, Tikka, Savage Arms, or Remington sling stud rifle.
Many Chinese made bipods get a bad name – but lately, there have been some great advancements made in quality and functionality. I'm glad that they included a large Pod-lock handle for the swivel clutch adjustment.
Twod Rifle Bipod 6-9 Inch review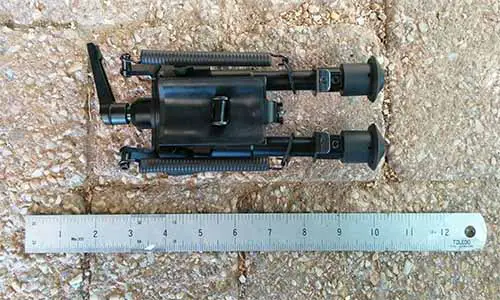 Most bolt action rifles have a sling stud whereas tactical automatic rifles such as the AR15 have a Picatinny rail. The good thing about this Harris clone bipod is it includes an adapter to suit an automatic rifle that only has a Picatinny rail mount.
The main reason I picked this Twod adjustable 6-9 inch bipod from Amazon for my Tikka T1x .22 rifle is that it is a Harris style bipod. Harris has a great name in the bipod industry and they make a very heavy duty swivel bipod.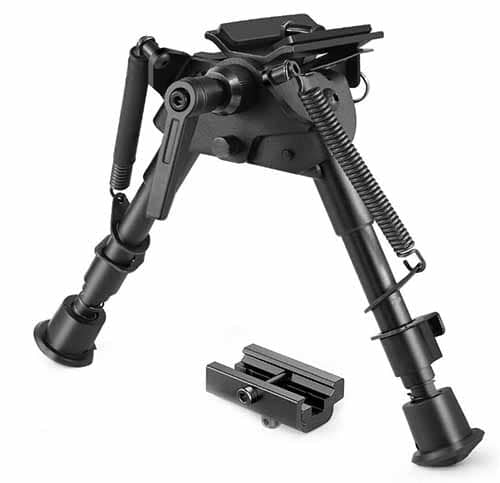 They also do a larger 9 inch to 13-inch bipod for those rifles that have a large magazine capacity or for people just wanting their barrel to sit higher.
Many gun owners rave about the genuine Harris bipod and I see them all the time out at my local rifle range. The only problem is that they are starting to get expensive as they are made in America.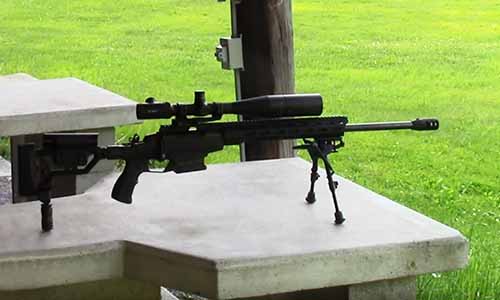 The 6-9 inch Twod Bipod for sling mount, on the other hand, is much cheaper and has gone through a few upgrades. The main features I love are as follows.
Spring adjustable legs with 5 individual length settings,
Retracted leg height: 6″/152mm,
Fully extended leg height:9″/226mm
Large quick adjustment swivel tension leaver
Lightweight construction at 10.1oz
Aluminum and steel construction
Rubber removable feet.
Spring swivel return to center assist.
Heat shrink covered springs.
Way cheaper than the famous Harris Bipod
What I like about this sling stud bipod clone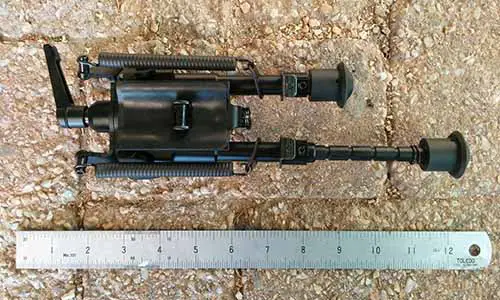 There are a few special upgrades on this hunting bipod that sets it out from the rest of the shooting sticks. The addition of a large pod lock is a great feature which we will cover later in the article.
The springs are covered in a flexible heat shrink which stops dirt getting into the springs and causing noise when the legs are deployed. I also like that it has an extra sling ring so you still have the option of attaching your rifle sling onto this bipod.
The spring assist notched legs are a great addition so you can get that perfect height for your rifle. There are 6 individual settings spaced 1/2 inch apart (6mm)

Sizes Available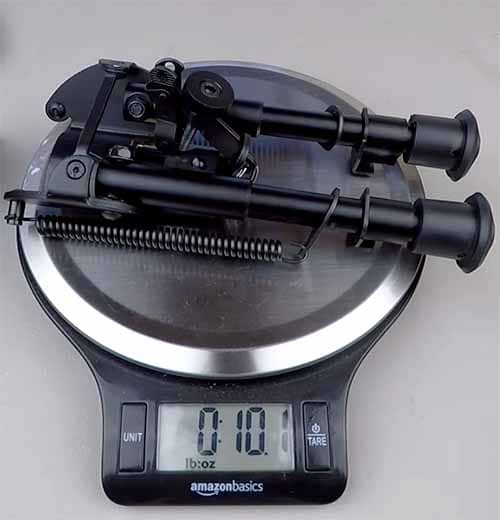 There are 2 different sizes a 6-9 inch and a 9-13 inch bipod. I find that the smaller size is great for my Tikka T1x .22 and its larger brother the Tx3 .223 caliber. If you are hunting in a high grassed area or have a larger capacity magazine you may want the larger 9-13 inch bipod.
I tend to leave my Harris style bipod connected all the time to my rifles and they each have one connected. They can take a beating and after 1 year of operation, they have yet to let me down. Just wipe them down after each hunting trip.
Don't forget its important if you are hunting for food too quickly prep your meat and get it vacuumed sealed for freshness.
Pod Lock for Harris Bipod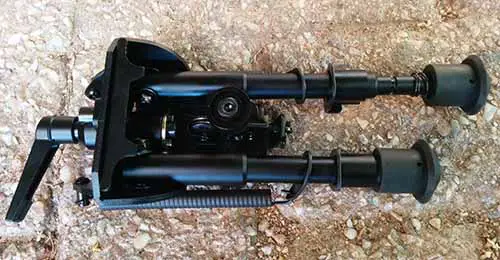 This lightweight bipod has a special finger tightening mechanism called a pod lock. It is perfect for these Harris style bipods as you can very quickly tighten them up with a 1/2 turn.
Locking the swivel or pivot point on your tactical bipod is an important feature. In the past, it was a small thumb screw and this was hard to turn at times. Now the pod lock for Harris style bipods is a great upgrade. I love it.
If you are wanting to upgrade your Harris or Caldwell bipod pivot thumb screw to a pod lock setup, then you will have to purchase a new Pod Lock from over at Amazon. You will need the following tools to do the upgrade
1/4 inch socket
3mm Allen key
Remove the 1/4 inch bolt on the thumb pivot knob and unscrew it anti-clockwise. Now we can install the new pod lock using the supplied spacer. It is really that easy.
How to attach a Bipod to a Sling Stud
Mounting a Harris style bipod on the rifle sling clip is very easy. Start by making the gun safe and clearing any live rounds.
Remove your new bipod from the packaging and take out the rubber separator spacer from the sling clamp if it is installed.
Face the bipod feet towards the barrel muzzle end and clamp onto the sling swivel by unscrewing the thumb screw and opening up the clamps.
If you are mounting to a Picatinny rail then you will have to use the included adaptor first.
Use the thumb screw to tighten up the clamps over the sling stud.
Make sure the lightweight bipod is straight and the rubber spacer supports are in place, making good contact with the barrel stock, and have not been dislodged.
Swing out the bipod feet to check for smooth operation. Grease the extension legs if they don't retract or extend smoothly.
Go over all the Allen key screws for tightness and use Locktite if you find that they unscrew over time.
Check the video below on the instructions on how to install a bipod of your bolt action rifle.
The great thing is that you still have access to a sling mount via a ring so you don't lose that function.
How to install Bipod Spikes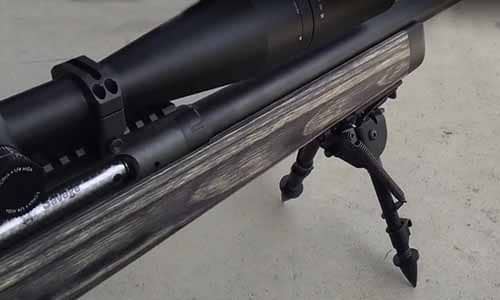 The feet on most Harris style bipods are usually made of rubber or plastic depending on the application. These are usually fixed into place with a small setscrew or a roll pin that must be pushed out.
In my case, I had a small roll pin that I just knocked out with a small pin punch. But you can use a small screwdriver or make your own pin punch from a small piece of a metal rod. Don't lose these as you can reuse them.
Once the pin is out, clean up any dirt that may be on the extendable leg and insert the new bipod spikes. Now, these spikes are great for field use when I find that the usual rubber bipod feet are slipping around too much between shots.
The spikes will dig in deep into the dirt and will hold the rifle in the same spot between shots. Its a great upgrade to any Harris Style Bipod. Just remember to take them off when shooting on a smooth surface. Otherwise, your gun will slide all over the place between rounds.
How to clean your sling stud bipod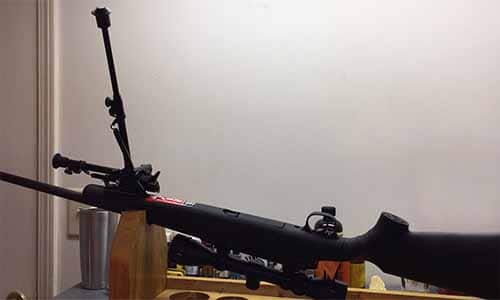 Like any part on your firearm, you will need to keep it clean and lubricated. There are a couple of metal pieces that may rust is the protective paint is scratched off but for the most part, it is made out of aluminum.
I just use a small paint brush to dust off any excess dirt and then oil the hinge points. Apart from that, I don't tend to put any oil on the extendable legs as these are a nice tight fit and oil may just attract dirt.
If you do feel that they become tight over time you can pull them apart and inspect the internal spring and latching mechanism. A quick clean will fee up any binding issues.
The tolerances on this sling mount bipod are great and I like that there is a big spring to keep everything in the correct position be it open on closed. I have noticed some other bipods have a smaller spring which tends to introduce some slop in the closed position.
Harris Bipod to Picatinny Rail Adaptor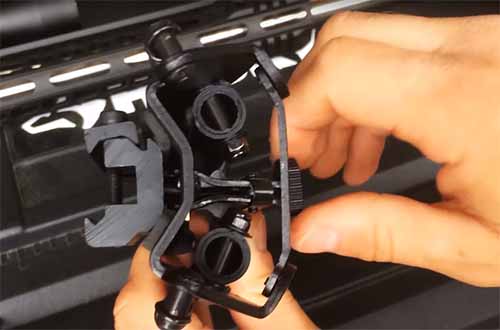 A great bonus to the Twod hunting bipod is the extra Picatinny rail adaptor. This is an aluminum block that will convert your Picatinny rail mount to be able to use this sling stud bipod. It is a nice addition.
Picatinny rails are the future and it is great to see an adaptor included to give you this option.
One of the great features of a Picatinny rail is the use of quick disconnect fittings. You usually find these on scope rings but there are tactical bipods with quick disconnect fittings. This way you can swap them over in a matter of seconds to a different weapon.
Just be aware that this adaptor will add 1/2 inch extra height onto your bipod. But this for most people won't be an issue.
Conclusion
At the end of the day, we all want to shoot straight and have small bullet groups. A hunting bipod that attaches to sling stud will help you achieve this either at the range or out hunting.
These short bipods are perfect for .22 rifles and it works great on my Tikka T1x. If I take his big brother the Tikka T3x .223 for fox hunting I can quickly swap over the rimfire bipod which only takes a few seconds.
I love my Twod Harris clone bipod. It is very similar to the Caldwell XLA bipod, but the Twod has a nice big pod-lock. This really sets it apart and makes life easy to angle your gun on uneven surfaces.
Happy hunting everyone and as always – Be Safe.
---
As an electrician and a survivalist prepper, I want to share some of my ideas, thoughts, hardware, and survival techniques I have learned over the past 20 years. The world is changing fast and we need to be repaired for what may come if society breaks down.