I was after a fantastic project for my Ender 5 pro printer so I decided to make a 3d printed crossbow pistol sling bow called the Adderini. It's actually a compound slingshot that shoots crossbow bolts. Yep sounds confusing but there is a video of the Adderini slingbow in action further down in the article.
What is the Adderini Sling bow?
Now the Adderini Slingbow is a repeating pistol crossbow that can store and fire 6 pistol crossbow bolts one at a time. This is an ingenious design that I have not seen before.
The Adderini can be printed in 4 different model designs depending on your needs and licensing restrictions in your country. There is the standard crossbow version with cocking lever that locks into place and the sling bow rubber version with the same locking cocking lever action.
The two other versions use a free-floating cocking leaver that makes the Adderini, not a crossbow by law. It's a sling/bow hybrid so technically it is a toy. In this post will be 3d printing the Adderini slingbow with the unlocked cocking leaver.
Warning: Before you start making and using this 3d printed toy crossbow, make sure it is legal in your country. According to some regulations/restrictions this toy can be considered a crossbow.
Even if the crossbow is illegal or requires a license in your country, you can still use this toy as a repeating sling bow/crossbow with a non-locking cocking lever, just print the alternative parts. Do not point or fire at any person, animal, or property.
Parts needed to make a 3d printed crossbow.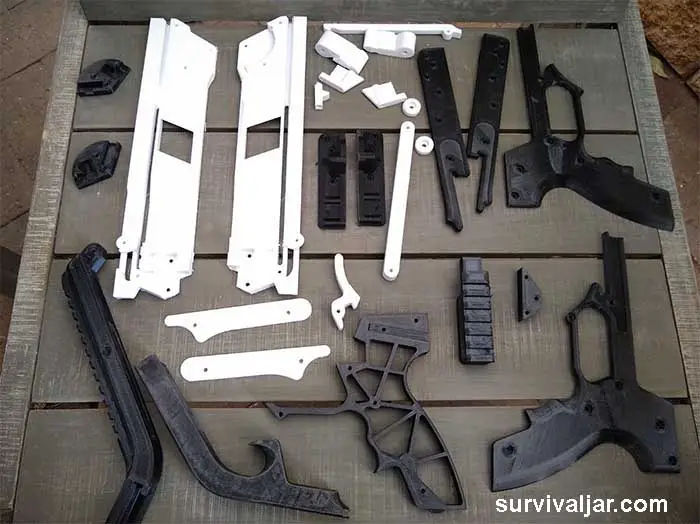 FDM 3D printer with a heated bed of at least 180 x 180 mm square (round bed Ø242 mm) I used a Creality Ender 5 pro.
About 0.6 kg of PLA or PETG filament is recommended – your choice of colors.
Pistol crossbow bolts – I use these as the fletches are strong plastic and don't rip or break.
M3 button head cap screw kit includes all the 3mm screws you need. There are a lot of screws in this 3d printed crossbow build.
8 pieces of M3x35 mm screws
16 pcs. M3x20 mm screws
2 pcs. M3x16 mm screws
5 pcs. M3x12 mm screws
4 pcs. M3x6 mm screws
2 pcs. M4x40 mm
Allen grub screws (headless set screws): 3 pcs. M3x16 mm, 1 pc. M5x10 mm (for crossbow limbs version)
25 pcs. M3
2 pcs. M4
1 pc. M5 (for crossbow limbs version)
3 pcs. M3xD5xL4 brass threaded inserts (optional extra for cocking lever Picatinny rail extensions)
1 piece of steel spring with a diameter of 8 mm, length of 20 mm, and wire diameter of 1.0 mm
1 small steel spring (from a clicky pen) with an outer diameter of 4.2 mm, length 20-25 mm
(half of the spring for [C]_magazine_pivot_lock and half for [C]_cocking_lever_lock)
TheraBand Gold rubber band 130x128mm, or Silver Theraband tube.
3mm braid string for the slingbow bowstring.
Circular blade knife with about 2.5m of polyester bowstring, serving thread, and bowstring wax (for the slingbow version)
Fiberglass pistol crossbow 35-55 lbs limbs with bowstring and end caps (for crossbow limbs version)
Precision files, 3mm 4mm drill bits 180-240 sandpaper.
Allan wrenches, screwdrivers, sharp knife, lighter, clamp, clothes pegs
CA gel glue (super glue) or two-component epoxy adhesive (for gluing parts)
PTFE grease for sliding parts.
Feyachi Multi-Reticle Green/Red Dot Sight is an optional extra but well worth it.
My 3d printer settings for the Adderini crossbow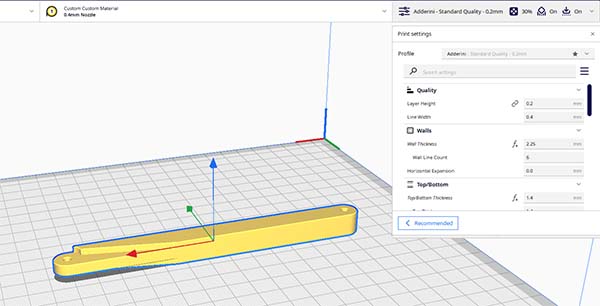 Rafts: No but I used a 5mm bream to help with warping on longer parts.
Supports: Yes touching table. [B]_cocking_lever_part1 or [B]_cocking_lever for 300 x 300 mm bed this part also requires internal supports in addition to those on the bed.
Nozzle: 0.4 mm.
Resolution: 0.2 mm.
Extrusion width: 0.45 mm
Speed 60mm, 20mm for the base layer. (You could comfortably go up to 80mm sec on an Ender 3/5)
Wall thickness: 1.8-2.25 mm (5 shells/perimeters)
Top/Bottom thickness 1.6mm
Infill: 25-30%.
Filament material: PLA, but I printed in PETG for added impact resistance.
PETG temp settings: Bed 80deg C, Nozzle 240 deg C.
Gluestick to get a sticky hot bead.
Minimum bed dimensions: 180x180mm, 200×200 mm recommended, and 300x300mm.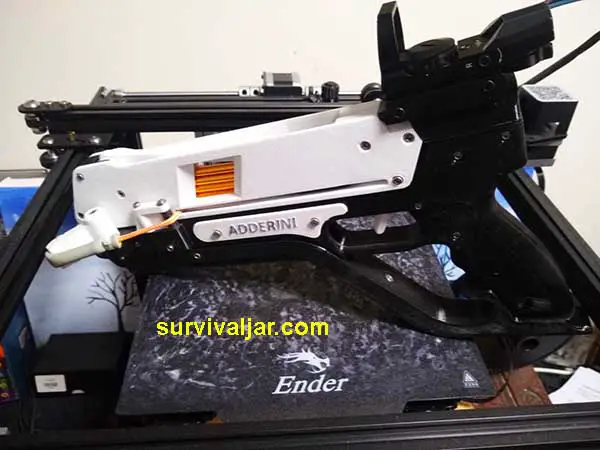 Printing sling bow hybrid Addernini .stl files.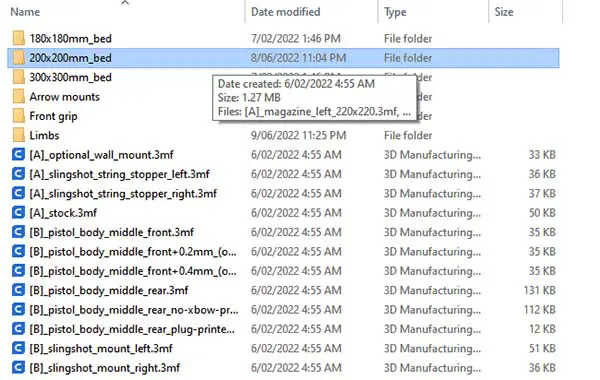 Before printing the crossbow decide if you will be having the slingbow version or the crossbow version. Both have roughly the same velocity power whereas the sling bow is cheaper in the parts list.
The Adderini 3d crossbow took me just over 52h of printing at around 60mm per second. This is a good compromise and quality was greatly improved for me at lower speeds. PETG can be printed up to 100mm per second.
I used Ultimaker Cura to slice the files with my settings and this free program worked out great. I printed each file individually but if you like you could add more than one file onto the heat bed to limit downtime in printing.
All the included files are split into folders according to your print bed size and filament color. This way you can print them in order.
One issue I found was that a couple of the files had a negative Z offset. This meant that the end print was thinner than expected. Not sure if it was Cura or the original .stl, also please check the Z settings before printing.
There are a lot of 3d parts to print, around 36 depending on the version to be printed so have a process to track and print them.
Building the Adderini 3d printed pistol crossbow slingbow.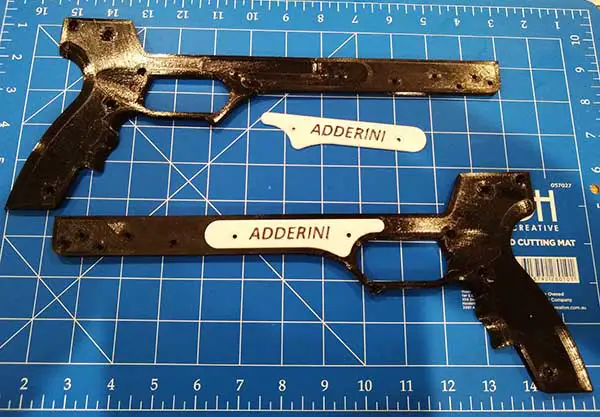 The included adderini build instructions.pdf is excellent with over 103 pages of instructions and pictures. Łukasz Janikowski has done an excellent job.
Make sure you read the build instructions pdf as it has some great printing tips and build instructions. If you just go full steam ahead with 3d printing every file you could end up with parts that you don't need.
Have all the screws, glue, springs, and rubber ready to go so that the build process is straightforward. I purchased these online before I started the 3d printing process. The 3x M3x16 mm grub screws are important so don't forget to get these as they can be hard to find.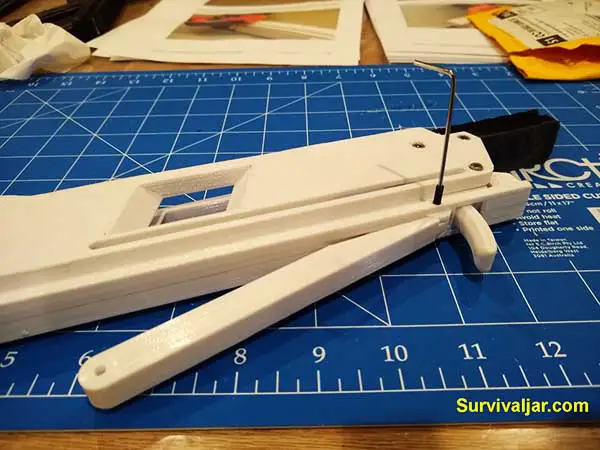 Make sure to file or sand all of the rough edges. Before gluing parts together, test that they fit and that there are no defects in the 3d printing process. We don't want to have a misfire due to a faulty part. Not all the parts need to be glued so read the instructions. I used 5-minute Araldite but super glue gell can also be used.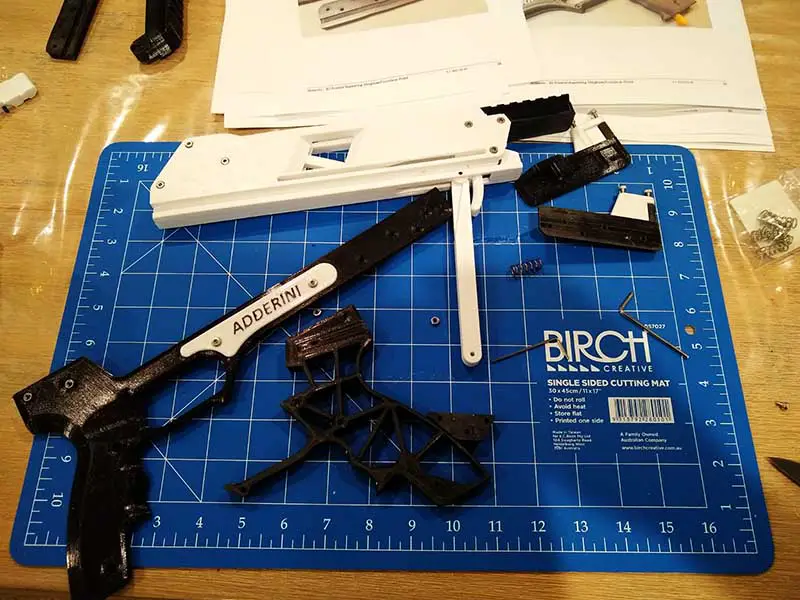 Build the arrow magazine first and then build the pistol body.
For the sling bow version decide if you are going to use the Theraband gold straps or the Silver Theraband tube. Due to where I live I was having trouble getting the Theraband gold so I went with the Silver tube as it is the heavyweight version of the Theraband tubes.
Some of my 3d printed slingshots use Theraband straps so a have a few different strength bands depending on what size projectile I will be using.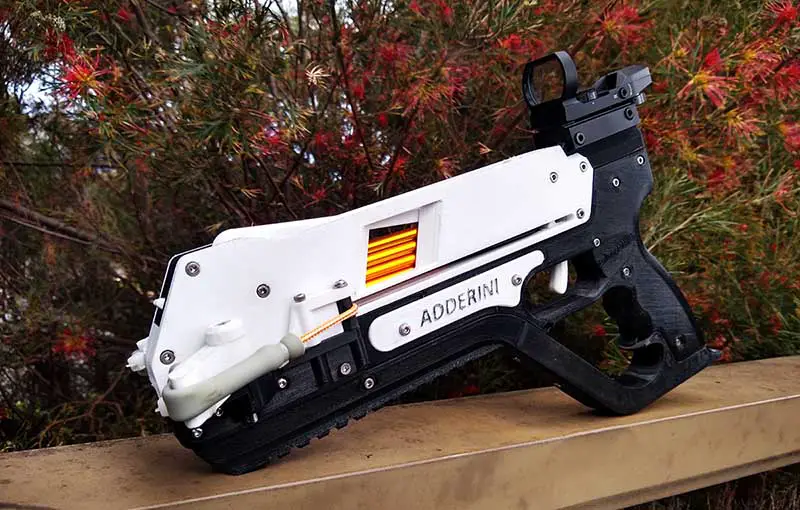 I do see others using the black Theraband tube so this will work as well. You could even double it over to increase the firepower. I ended up having a tube length of 70mm per side with a bowstring length of 110mm between the knots. The instructions say to use 60-65mm Theraband tube but I used more length to tie it down.
Multi-Reticle Red Dot Sight.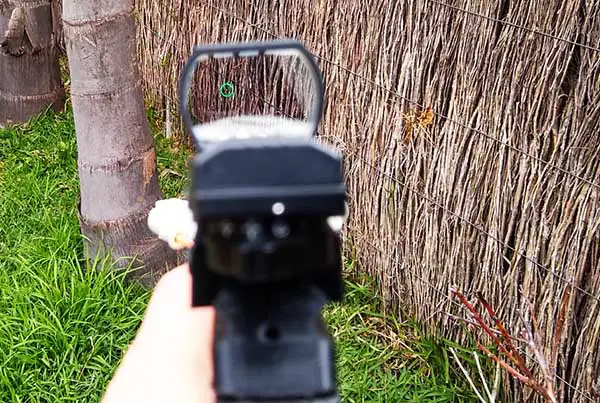 The Feyachi Multi-Reticle Green/Red Dot Sight is an optional extra part that is not very expensive and will improve your aiming. This Reticle allows for 4 different styles. Dot, Circle/Dot, Crosshair/Dot, Crosshair/Circle/Dot combinations. All in one sight!
A 33mm lens provides quick target acquisition. Parallax corrected & unlimited eye-relief, where the dot goes, so does the crossbow bolt. It has a wide field of view to maintain situational awareness.
I found the Picatinny mounting system on the sights to be sturdy and secure. It also comes with Allan hex tools to make all the adjustments you need which were nice.
Firing the Adderini pistol crossbow.
The first time you fire the Adderini sling/bow hybrid only load one arrow bolt. This is to make sure all the firing mechanisms work correctly.
Never dry-fire a crossbow. This means always having an arrow or bolt in the firing magazine. Otherwise, the expelled energy will transfer into the limbs and other parts causing a dangerous failure.
I have a tactical red dot sight mounted onto the Adderini and it has improved the accuracy of the standard sights. My red dot is only a cheap Chinese clone but it works for my backyard survival practice shoots.
Once sighted it in the Adderini is very accurate up to 10m. After this arrow drop and windage can start to take effect. Remember this is a short-range 3d printed crossbow. But you can still hit targets out to 20m and further.
I noticed that the last arrow would always fire slower than the rest I suspect that the pushdown latch retainer is letting the arrow ride up a little on the track. This means the sling bow string is not getting the full power stroke. I may need a stronger spring than the 1mm x 8mm x 20mm that is in there.
Check out the video on my 3d printed tactical pistol crossbow in action.
Best 3d printed crossbow
There are a few different 3d printed pistol crossbows on the market but the Adderini is in my opinion one of the best. It is one of the most powerful slingbows around.
The Baraba 3d printed pistol crossbow would have to come in second as it is a very similar design but uses a 20x20mm aluminum extrusion as its core. So 90% fully 3d printed and of a very much similar design as the Adderini 3d pistol crossbow. Here is my procedure and review of the Baraba 3d printed sling bow.
There is also the Sliding Legolini. This is a 3D-printed pump-action repeating mini bow with an integrated quiver magazine for 6 arrows (bolts) and thumb-triggered release.
Can you 3D print a crossbow?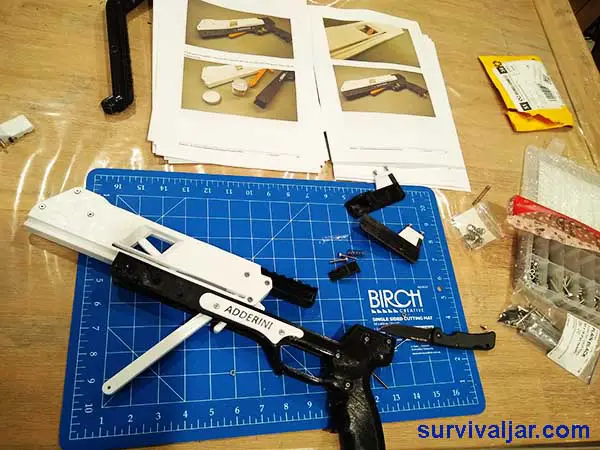 Yes, the Adderini is a 3d printed crossbow that is very powerful. It has fantastic features such as a 5 bolt magazine that are becoming standard for pistol crossbows of the future. It is best to 3d print crossbows with PETG filaments for strength and impact resistance.
The Adderini slingbow version:
Width: 100 mm (60 mm with folded slingshot arms)
Arrow energy: up to 11 J
(with Steambow Bodkin 10.5 g bolts and TheraBand Gold bands 60 mm per side – about 55-60 lbs)

The Adderini crossbow limbs version:
Width: 440 mm (Using EK Archery Cobra 80 lbs limbs)
Arrow energy: up to 10,5 J
(with Steambow Bodkin 10.5 g bolts and EK Archery Cobra 80 lbs limbs – in real terms about 50 lbs.
Conclusion
The Adderini sling bow hybrid has been a really fun project to show off the features of what a 3d printer can do. These are complex parts that are designed to fit together precisely. This is an excellent project to really test out our 3d printer.
With over 55 hours of 3d printing in this project, you will need to take your time. You can either load up many .stl files on one print bed and print them all at once or print them one at a time. I ended up printing them one at a time just in case there was a malfunction. I had to also use a brim on some of the longer thinner parts to help with warping.
I found the hardest part was waiting for the springs, screws, and Therabands to come in the post. So make sure to order these in advance.
Let me know in the comments below what other 3d printed crossbows are available to build. I love a good challenge.
As an electrician and a survivalist prepper, I want to share some of my ideas, thoughts, hardware, and survival techniques I have learned over the past 20 years. The world is changing fast and we need to be repaired for what may come if society breaks down.