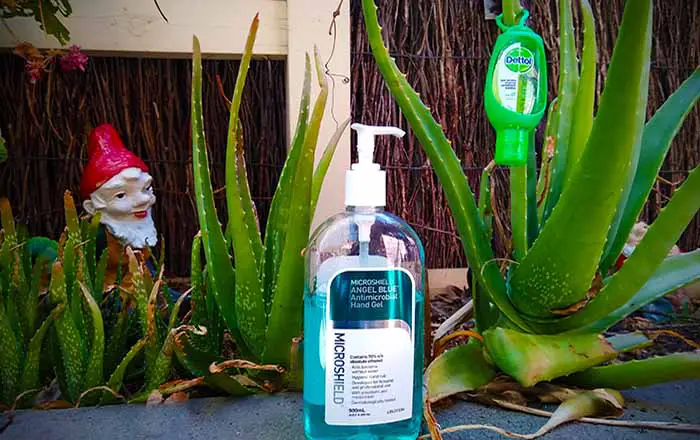 With the outbreak of the Corona Virus (COVID-19) around the world in early 2020, the demand for germ busting products has been flying off the shelves.
This has put huge stress on the supply chain for certain products. So if you are unable to find some hand sanitizer at your local supermarket then you should look at making your own.
In this post, we will show you how to make a powerful hand sanitizer that will kill the bacteria on your hands. Now I must stress that this is not the end solution. It is just one of the steps you should take to have good hygiene for yourself and your family.
The World Health Organisation states that washing your hands with soap and water is still the best way to remove germs, bacteria, and dirt from your hands. Doctors do this before an operation so you should too. Hand sanitizer is a quick solution while you are out and about.
DIY Hand Sanitizer at Home Simple Recipe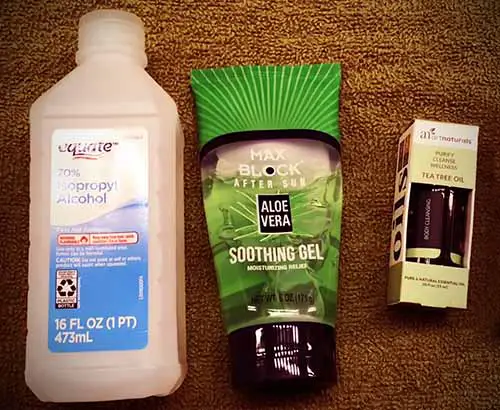 To be effective, hand sanitizers need to contain a minimum of 60% alcohol by concentration.  Alcohol kills germs by a process called Denaturation. Basically, if proteins in a living cell are denatured, this results in the disruption of cell activity and most often cell death.
Alcohol molecules are able to bond with and break down the bacterial cell-protective membrane so they die. Now that we have the reason why it works let's get into the recipe.
The two main parts to an efficient hand sanitizer are:
91% or better Isopropyl Alcohol – 5 Cups
100% pure Aloe Vera Gel – 2 Cups
Making your own Hand Sanitizer is easy. The above recipe results in an alcohol concentration of roughly 64%.  You can add a few drops of essential oils as desired for a nice scent.  The following are some essential oils that add germ-killing ability and provide a pleasant smell.
Top 10 Antibacterial Essential Oils
Peppermint Essential Oil — Mentha Piperita
Tea Tree Essential Oil — Melaleuca Alternifolia
Lavender Essential Oil — Lavandula Angustifolia
Eucalyptus Essential Oil – Eucalyptus Globulus
Citronella Essential Oil — Cymbopogon Nardus
Oregano Essential Oil — Origanum Heracleoticum
Palma Rosa Essential Oil — Cymbopogon Martini
Orange Essential Oil — Citrus Sinensis
Lemongrass Essential Oil — Cymbopogon Citrullus
Geranium Essential Oil — Pelargonium Graveolens
You'll need to use about 90 milliliters of rubbing alcohol, also known as isopropyl alcohol, for every 10 milliliters of aloe vera gel. It is important to have a final concentration of over 60% rubbing alcohol in your hand sanitizer solution.
This means if your Rubbing alcohol is 99% pure then you can use more Aloe Vera and essential oils in the solution. If the Isopropyl is only 70% pure then you only have 10% to play with so you will have to modify the hand sanitizer recipe to use less Aloe Vera per volume.
A lower concentration of alcohol (60%) results in not having enough alcohol to rapidly evaporate and dry out the microbes on your hands. Thus the homemade hand sanitizer is less effective according to the Center for Disease Control and Prevention (CDC)
Mixing Procedure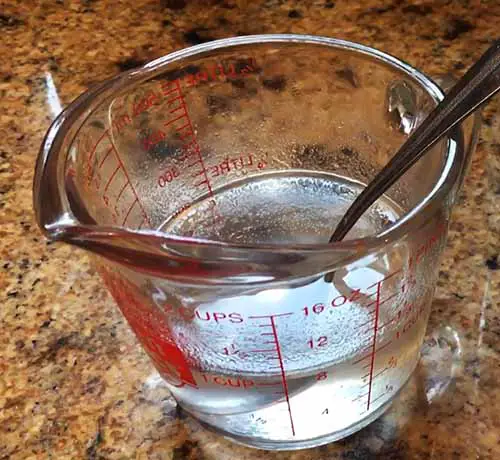 Add all of your ingredients into a mixing bowl or a jug. I like to use a spoon, manual cake mixer, or egg beater to mix up the DIY hand sanitizer solution. Isopropyl Alcohol, Aloe Vera and essential oils actually mix well together.
Be aware that Rubbing Alcohol is very flammable so keep it away from naked flames or an electrical spark source.
Blend it through slowly and carefully for a few minutes. Once it is mixed up fully you can pour it into a bottle dispenser. If you keep the sealed solution in the fridge it will last longer.
A dash of food color will give your germ-killing hand solution a nice green, red, or blue tint. If you follow the above instructions you will have enough homemade hand sanitizer solution to last you a very long time.
Can you use Fresh Aloe Vera in the DIY Hand Sanitizer?
Yes, we grow our own Aloe Vera in our garden for various medicinal purposes like sunburns, small cuts, and scrapes. They are easy to grow and will spread over a small area over time.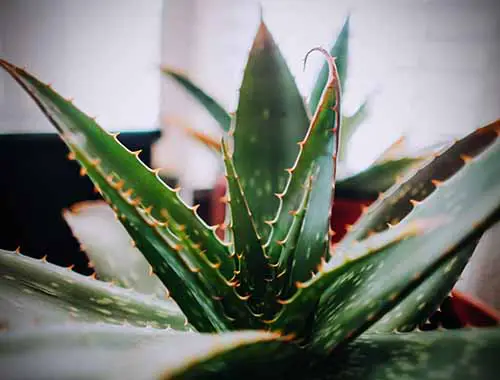 For bulk mixtures, it may be more simple to buy the ready-made 100% aloe vera gel. For some reason, the fresh Aloe Vera tends to make the homemade hand sanitizer more thick and slimy. But still just as effective.
How to Make Hand Sanitizer without Aloe Vera
Aloe Vera is a moisture replacement for when the alcohol dries out rapidly. If you are allergic to aloe vera you will have to use a replacement. You can try some of the following natural products.
Olive Oil
Almond Oil
Shea Butter
Cocoa Butter
Just replace the same volume of Aloe Vera with your choice of natural moisturizer mentioned above.
Can you use Vodka as Hand Sanitizer?

No, Vodka only has an alcohol content of around 40% (80 proof). This is not enough to kill the bacteria on your hands or to sterilize equipment. Sure it looks good in the movies but the science says otherwise.
I have come across a drinking spirit called Everclear. It is a brand name of the rectified spirit made by American company Luxco.
It is derived from grain and is bottled at 120, 151, 189, and 190 U.S. proof which equates to 60%, 75.5%, 94.5% and 95% alcohol by volume.
Due to its high alcohol content, it is perfect as the base for Hand Gel. Everclear is mainly used to blend with other drinks as it is not recommended to drink or be consumed directly in undiluted form.
Just make sure you buy Everclear in 75.5% or greater alcohol by volume.
Hand-washing vs. Hand sanitizer
About 85% of infectious diseases and viruses are transmitted by direct and indirect contact.
Direct contact is by touching an infected person.
Indirect contact is by touching something an infected person touches or by breathing in a contaminated airborne particle. Most germs enter our system from our hands.
To stop or minimize the bacteria from entering our system, the CDC recommends washing our hands often and thoroughly with soap for at least 20 seconds or more. The World Health Organization (WHO) says you should scrub even longer than that.
Doctors scrub with antibacterial soap before every operation to minimize the spread of disease so you should too.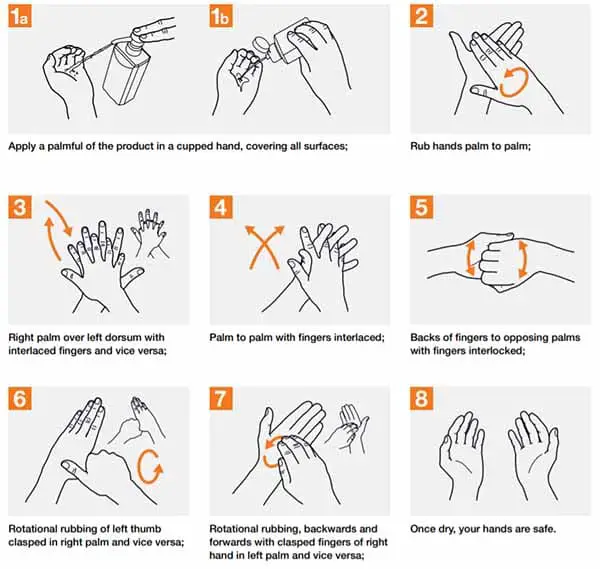 "Hand-washing is the most simple important daily task you can do for your health. If you can't wash your hands, then go grab some of that homemade hand sanitizer. It could save your life.
Don't forget to stock up on some essential food and water supplies. The Life straw is a great invention that takes out bacteria in water. If should be in everyone's survival pantry.
Let's hope the world doesn't end due to the Corona Virus. But so far it is doing a good job of disrupting everyone's lives. Stay safe and start prepping.
Let me know in the comments below how you make your own hand sanitizer at home and what essential oils you use.
As an electrician and a survivalist prepper, I want to share some of my ideas, thoughts, hardware, and survival techniques I have learned over the past 20 years. The world is changing fast and we need to be repaired for what may come if society breaks down.