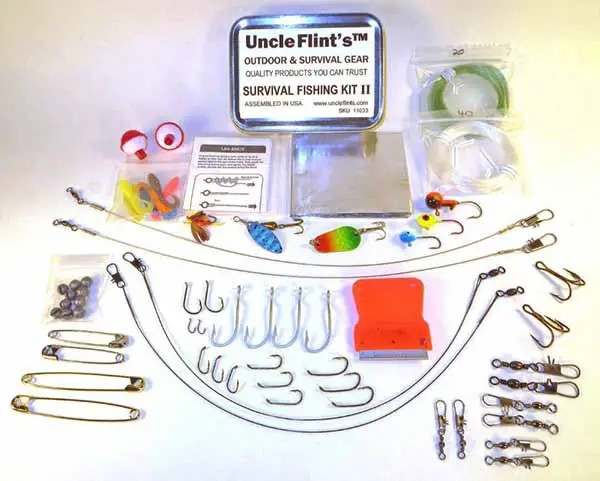 Surviving out in the wilderness is hard, but being prepared will make this task easier. Having the correct gear for any emergency or situation is paramount for your health and comfort when things go wrong.
A big part of living off the land is the ability to acquire fresh food. Hunting and fishing are two ways to provide food for yourself and your family. As a prepper, I always like to have some way of either catching or trapping fish.
I have been fishing since I was 4 years old. I can remember landing my first fish and not only enjoying the thrill of the fight but knowing that that bass was going to the kitchen to be cooked for dinner.
Now as an adult I don't go anywhere without some type of military survival fishing kit, also know as hobo fishing kits stashed away in my car or backpack. These are small and compact enough that I don't even know they are in my car, just place them in the glovebox or under the seat for a rainy day. Plus the kids love handline fishing in the nearby creek.
Military Survival Fishing Kit
Uncle Flints
Viligant Trails
Glide ASE
Number of Hooks
17 various sized hooks and 2 treble hooks.
8 various size hooks and 2x treble hooks.
9 Regular and 2 treble hooks
Lures / Jigs

3 metal jigs
2 spinning lures
1 fur fly

6 rubber lures. Including Frog Lure and Curly tail grub insect.
3 rubber jigs, 2 fur flies, and 1 metal spinning lure. 8 sealed imitation salmon egg bait.
Floats
2 fast clip floats
1 bob float.
2 floats
Lead Sinkers
10 lead sinkers
9 sinkers of various sizes.
9 small clamp sinkers
Fishing Line

50 ft. 20 lb test monofilament line,
50 ft. 40 lb fishing line

100 feet of 10-pound line
50 feet of20-pound premium monofilament line

50 ft of 12 LB Line
25 ft of 30 LB Line

Knife
No
Lock back Folding Knife with a serrated edge.
Derma-Safe Utility Knife Military Approved
Tin size
 4.25″ x 3.125″ x 1″
 4.4 x 3.2 x 1 inches
Wire wound leader
4x steel leaders 20lb and 40lb.
2x wire leader with swivels
4x wire wound leader.
Ready to cast line
No, make your own.
No.
Yes, 1x hook line and sinker ready made.
Our Picks

♥♥♥♥♥

♥

♥

♥

♥

♥

♥

Where to buy
The main reason I like the Uncle Flints emergency fishing kit is the fact that the pack so much into a little kit. You get way more gear than the other 2 kits. Sure the others have a knife but in my experience, as a prepper, you should already have a great survival knife.
Uncle Flint's Military survival fishing kit 2 review
This small military survival fishing kit reminds me of a tin of tuna. It is so small that you can fit it in a shirt pocket but it can pack in a whole lot of basic fishing gear. Uncle Flits are the leaders in this group with the following fishing gear packed in tightly.
Tough steel storage tin with a hinged lid 4.25″ x 3.125″ x 1″ in size.

The Uncle Flints Survival Fishing Kit consists of over 63 quality pieces of essential fishing supplies.

This small preppers fishing kit will easily fit in the pocket of a jacket, small backpack, jeans pocket, or in the glovebox of your car.

Included are 50 feet of 20 lb and 50 feet of 40 lb test monofilament fishing line.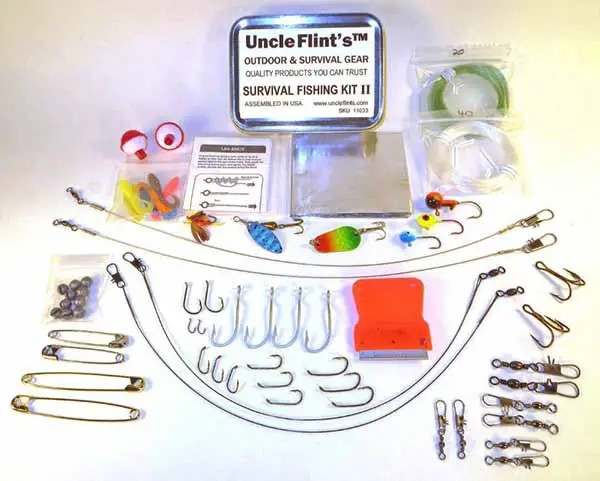 Just look at the incredible amount of fishing gear that Uncle flint includes in their pocket tin. There is a huge range of more gear included than the other kits reviewed here.
Sure you could make your own kit but the cost to buy each lure, hooks, sinkers, floats and the storage container is so much more. You can even try your hand at making fishing lures out of household items. It is a fun activity that even the kids would like to do.
I like that it has some instructions for knot tying as most people new to fishing don't know which knot to tie. Incorrectly tying a knot will cause the line to break prematurely due to stress points on the line.
Viligant trails military hobo fishing kit
What I like about this little tin hobo fishing kit is that it has 2 small hand reels for your line. This makes fishing more easy and fun. They are just the handles from a kite which work surprisingly well.
New for 2018, this kit provides all the fishing basics to hopefully catch some fish in an emergency.

The two hand line winders are pre-spooled with 100 feet of 10-pound line and 50 feet of 20-pound fishing monofilament line.

The large variety of soft and hard plastic lures will help target and land many different species of fish.

Comes with a fold out knife to cut and clean your catch.

Standard size to fit into a shirt or pants pocket. 

Big Brother to the best selling Vigilant Trails Pocket Fishing Kit and Trekker-513 Survival Kit.
I like that this kit includes a knife and some hand reels. The downside if this is it takes up some valuable real estate space which could have been used for extra fishing gear.
Best Glide ASE Survival Fishing Kit – Standard Version
Assembled in the good old USA using a premium weather/water resistant tin container. This means there is a rubber seal inside the lid and a vinyl tape seal outside.

Great selection of jigs, flies, hooks, leaders, salmon eggs, split shot, fishing line, bobbers, and a spoon lure.

Includes a U.S. Military approved Derma-Safe utility knife.

Bonus points for the survival fishing kit instructions and stickers.
The Best Glide ASE Standard Emergency Survival Fishing Kit is a very inexpensive, quality and survival fishing kit. Inside the kit is a Silica Gel Desiccant for moisture absorption so your hooks don't go rusty.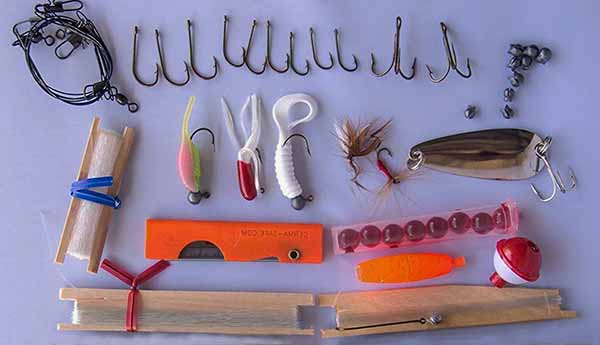 Inside the Glide ASE fishing survival kit include:
Fishing manual with tips and instructions
Derma-Safe utility knife military grade.
2-inch Swirl Tail Grub jig
Tiny Shad rubber jig
1 ½" Tube plastic jig
¼ oz. silver spinning spoon lure.
8 Red Salmon eggs.
Size 8 realistic fly.
Size 10 Fly.
2 Treble Hooks.
9 various size hooks.
4 Wire Wound Leaders.
8 Lead weight sinkers.
Bobber float
50 ft of 12 LB Line
25 ft of 30 LB Line
Ready to use line with bobber, sinker, and hook.
Survival Fishing Kit DIY
If you don't like any of the metal tin options shown here you can also make your own hobo fishing kit.
I like to start with a plastic Tupper ware container. The ones with the 4 sided clamps and the rubber seal work the best. I use the Vremi silicone collapsible containers. This is because they can be made smaller if you push down on the lid. Yes, they collapse down provided there is enough free air space.
They come in a kit of 4 but you only need one. The rest are great as airtight containers which are perfect for long-term food storage.

I then segregate the hooks, sinkers, floats, and line into separate snap lock bags to separate it all. You can even add in some extra fishing gear like a small reel, bait knife or a torch.
Conclusion
These kits a such a great idea for a quick emergency survival fishing kit. Just keep them in a car or your preppers bug out bag and they will come in handy. Sure your not going to cast a mile but with a little thought and some DIY skills, you can make a simple fishing rod out of a tree branch.
Who knows maybe this kit will save your life one day. They make great Christmas and birthday gifts as they are cheap but different. I have a couple now stashed for a quick getaway.
As an electrician and a survivalist prepper, I want to share some of my ideas, thoughts, hardware, and survival techniques I have learned over the past 20 years. The world is changing fast and we need to be repaired for what may come if society breaks down.