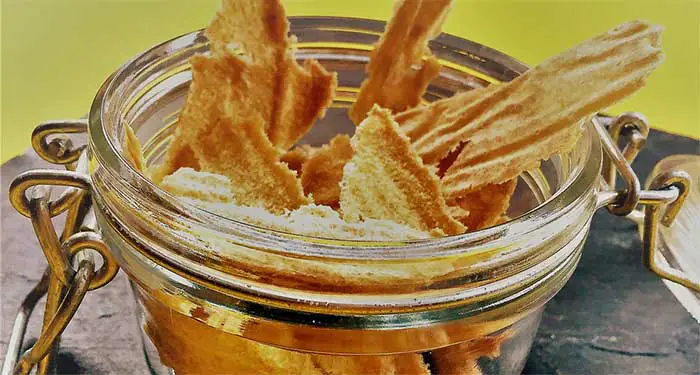 My kids love fruit roll-ups, but as a mother, I don't like the added food coloring and preservatives that are present on some of the more popular brands. So I needed to find a way to keep the kids happy and me, confident that the children were eating healthy foods.
My mission was to create the best-tasting, color free, all natural fruit roll-ups that my kids would salivate over. So after lots of research and trial and error, here is my recipe for the fruit salad roll-up also known as fruit leather. Now you can experiment will a whole range of fruits and flavors so don't be afraid to try new things.
These fruit roll-ups are also excellent for emergency food storage. If you vacuum seal them they will last for years in a cool dry place. Great for vitamin C.
How to make homemade healthy fruit roll-ups
The secret to making a healthy fruit roll-up is the dehydrating process. We need to be able to dry out the liquid concentrate to leave the healthy chewy fruit roll. Now, this process isn't limited to the fruit you can use the dehydrator machine for homemade beef jerky, drying out vegetables, and soups for long-term storage.
I love my NESCO Snackmaster Pro Food Dehydrator. With a high power 600-watt heating element this machine will dry your food fast ask safe. I like the way there is a preset temperature dial which makes it easy to set the right temperature for the food you are dehydrating.
You can also use an oven but you won't get the same results. Better flavors and more control over the dehydrating process are achieved with the Nesco FD-75D.
My Famous Fruit Roll-Up Recipe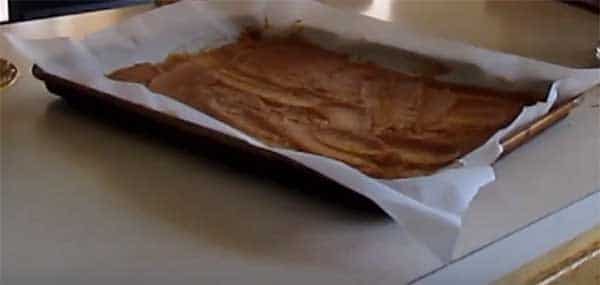 Ingredients used:
Punnet of freshly washed strawberries.
2 Mangos, you can use frozen mango if out of season.
1 Peeled and cored apple.
1 Cup of washed blueberries.
1/2 peeled small lime for color preservation. Lime juice also works well.
1 Tablespoon of Honey, or Stevia/Truvia/Sugar for added sweetness.
Before cooking be sure to wash your hands as well as the fruit as we storing food long term. We need to be extra diligent on contamination issues.
Place all ingredients in a blender, we have a Blendtec and its great for smoothies and pureeing foods. The finer the better as it will give the roll-up a more even texture when it dries out.
To make the mixture bind and stick together we need Pectin. This is a naturally occurring substance (a polyscaccaride) mostly found in berries, and apples. When heated together with sugar, it causes a thick binding agent. If you don't use berries or apples in your fruit roll-up its best to use another type of citrus fruit to get these binding agents.
Now pour the mixture into the roll-up trays in the Nesco dehydrator machine. Now, this mini oven comes with 5 trays but it is expandable up to 12 trays for a huge tower. If you have any leftover fruit smoothie solution you can place it in the fridge for a maximum of 24 hours. It will need a good mix before using again as it will separate.
I like to set the temperature for on the lowest setting you can in the oven 115 deg F for 8-12 hours regularly checking the solution. Once the roll-up is set and non-tacky, its time to cool and remove the fruit leather.
If your oven temperature won't go this low you may have to regularly keep checking your fruit roll-up solution to make sure it doesn't burn around the edges. Don't worry about the change in color this is normal.
Removing Roll-up from the oven
Carefully remove the roll-ups from the oven or the dehydrator and place them on the baking paper cut to size and start to roll them up. This way the baking paper will be between the fruit roll-ups and will easily be unrolled when its time to eat.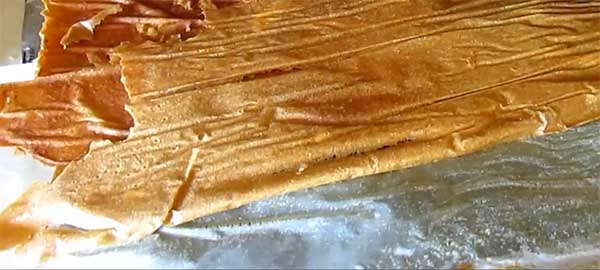 An added extra step is to sprinkle some caster sugar on the roll-up if you would like a very sweet treat.
Now is a great time to use up any leftover fruit roll-up solution. Remove it from the fridge and blend it up again. This way it will get a good mix because it will separate in the fridge.
Continue the baking process until all of the fruit roll-up mixtures are all used up. Or just pour it into a glass with a few ice cubes and enjoy a fresh cool fruit smoothie.
More Homemade Fruit Leather Recipes
There are thousands of other combinations of fruits you can try. Pure applesauce is always a favorite with our family. If there is ever some fruit salad left over its gets blended up for the following week's school snacks.
If for any reason your blended fruit solution is too dry, I like to add 1/4 cup of apple juice to help make a liquid smoothie which is perfect for spreading out on the baking tray. Just don't make it too runny.
Triple-Berry Mix 3 cups of mixed blackberries, strawberries and raspberries, and sugar to taste.
Tropic Peach-Mango Blend 1 cup each of chopped fresh or canned peaches and mango. Blend fine 1/4 cup of coconut.  Add some sugar or honey for a sweet blast.
Wild-Cherry-Vanilla Blend 3 cups frozen pitted cherries,  3 tablespoons sugar, 1/2 teaspoon vanilla extract, 1/4 teaspoon almond extract, a pinch of salt. Blend fine.
Blueberry-Pear Blend 2 cups frozen blueberries, 2 chopped pears, and sugar to taste.
Peanut Butter–Apple Peel 3 apples, and add 3 tablespoons creamy peanut butter, 2 tablespoons flaxseeds, Add some sugar or honey to taste. Adding 1/2 cup of apple juice will help the blender make a liquid.
One note is that I don't recommend putting bananas into your fruit roll-ups. They don't dehydrate well. My mixtures seem to stay moister for longer. Putting the oven on a hotter setting will brown and dry out the edges of your mixture. You want a nice even cooking temperature. That's why 115-130 deg F works best over 8 hours or more.
Fruit Leather Dehydrator
I seem to get better results with a purpose-built fruit leather dehydrator. The Nesco Snackmaster is the perfect mini dehydrator for us. Its powerful has a whole rack of expandable drying trays and will not take up a lot of space.
We mainly use it to dry out marinated beef to make my dads famous old fashioned beef jerky. But it works equally well for dried fruit, vegetables and making healthy fruit leathers.
With a bunch of preset temperature settings, you can easily know what temperature is required for each food groups.  (95º-160º F)
Jerky, meats, fish dehydrate at 160ºF
Fruits and vegetables 135ºF
Nuts and seeds 105ºF
Herbs and Spices 95ºF
Included with your dehydrator are two fruit roll sheets, which are perfect for drying semi-liquids like soups, sauces, and fruit rolls. There are also two Clean-A-Screen flexible trays, which allow for simple drying of small foods like herbs, spices, and nuts.
Storing fruit leather for long-term food storage.
Fruit roll-ups also called fruit leather can be stored in a sealed jar for a few months. If you place it in the fridge you will get around 6 months of use. I like to vacuum seal my fruit leather as it will last up to 1 year or more if stored in a cool dark place.
The good thing about fruit leather is it can provide you with many vitamins and minerals you need. If your children don't like these certain fruits they may enjoy these roll-ups.
Vacuum sealing is the process of removing air from the storage container. Air contains moisture which over time will degrade your foods that you are trying to store. Bacteria love air and moisture, this is why mold grows so well even in the fridge.
Top rated vacuum sealer
If you want to store your fruit roll-ups in the pantry for a year you will have to vacuum seal them. We use this vacuum sealing machine by NutriChef and it has been a real lifesaver in our home.
 No more wasted foods in the fridge or pantry due to spoilage. This vacuum sealer will remove all of the air out of the plastic storage bag as the food lasts longer in a vacuum.
The NutriCheif automatic vacuum sealer is a favorite by preppers worldwide. This is because it can do wet foods like soups and dry foods like rice, meat, and chicken. It's a proven fact that vacuum sealing foods will keep them fresh 5x longer than a normal zip-locked bag.
To use this fast vacuum sealer all that you need to do is place your food into the special sealing bags and then clamp the bag into the NutriChef machine. Press the touch-sensitive button on the type of food you are sealing like dry or wet. Then press the vacuum seal button.
Watch in amazement as all of the air is sucked out of the plastic bag. The final step is the hot sealing strip which plastic welds the two sides of the bag together. This weld won't come apart no matter how much you pull on it which makes it a very safe food bag.
We store our long-term dried fruit in these bags. It's a healthy snack and will last for years without the presence of oxygen. As long as they are packed in a cool dry place out of direct sunlight.
A cheaper option is the Aldi Ambiano vacuum sealer. These are great and we brought a heap of these last year to give out as Christmas gifts. Check out our unboxing video.
Conclusion
Fruit leathers take some planning but the reward is huge. Not only are they a great fresh healthy treat they can provide you with some great vitamins and minerals when fruit may be in short supply. If the dried dehydrated fruit is good for an Army survival MRE pack then its good enough for my family.
As a survival prepper, I like to store foods that will last for a few years. Fruit can be difficult as it needs to be either frozen or dried. But these fruit roll-up recipes are perfect to get rid of any excess apples, pears, strawberries or oranges.
Let me know in the comments below what are your healthy fruit leather recipe ideas.
As an electrician and a survivalist prepper, I want to share some of my ideas, thoughts, hardware, and survival techniques I have learned over the past 20 years. The world is changing fast and we need to be repaired for what may come if society breaks down.