If you are after a two person or a single hammock then you have come to the right place. We will go over some of the more important aspects of hammock design so you can buy the right type of hammock for your needs.
Also, we will make it easy for you to set up your first double hammock in only a matter of minutes rather than half an hour. Many people think that it is easy to set up a hammock – Its only two pieces of string right! – Wrong, a whole lot more goes into it like angles and slope length which many people simply disregard and will then have a restless sleep.
Two person hammock camping
Sleeping options, while you are out camping, are wide and varied. You can sleep in a tent or on top of a foam role up mattress. You can use a blow-up bed or a role out swag. You can even sleep in your car if the seats lay back far enough.
But one of my favorite lazing around sleeping options is using a two-person parachute hammock. Not only are they good for you and your best mate, but they are great for larger people. There is a whole lot more fabric and you and you can really get comfortable in them.
With a hammock, you only need a couple of trees to set up your bed. If you bring a tarp then you don't even need a tent. We still bring our Coleman 8 person tent for when it starts to rain. This makes the tarp/hammock combo a very practical fast set up an essential part of a kit for a mobile bug out bag. As a survivalist, this can be the difference between comfort and just being miserable on a camping trip.
Hammock camping for two best friends is just about as simple and easy as it gets. All you need is your hammock and a tarp if it rains. So let's check out some tips and tricks to make your setup as easy as possible.
Hammock Hanging tips and tricks
Most people start off with just using the rope or cordage that comes with your hammock. For a faster deployment invest in a set of tree straps.
 I use a set from ENO called Atlas tree straps, this makes putting up a 2 person hammock take less than a few minutes. They are 9 feet long so you can wrap them around some fairly big trees.
To use them just wrap one around a tree and loop one end back into themselves, gravity will do the rest to hold them in place. If you want to save money a set of car tie down ratchet straps will also do the job. Just make sure they are rated for the weight of two people.
The advantages of using a strap rather than rope or paracord are the damage these thin nylon ropes can do to the tree as it cuts into them. As well as the speed in putting up your hammock. You can also make quick adjustments on the fly.
Single vs Double Hammock Camping for two
Many people are confused about what type of hammock they need. We have put together a table shown below some of the specifications you should look for when purchasing a quality hammock.
Specifications
Single
Double
Double
Brand
Wise Owl Outfitter Single Hammock

Winner Outfitters 2 person parachute camping Hammock

Eagles Nest Outfitters ENO DoubleNest Hammock

Best of the Best
Product Weight
16oz or 1lbs
1.4 pounds without rope and carabiners. 2.3 lbs with.
19 ounces or 1.18lbs
Size
Unfolded 9ft long by 4 1/2 ft wide
Unfolded 118"(Long) x 78"(Wide)
Folded 5″ x 5″

Unfolded 9′ 4″ x 6′ 2″

Maximum Load
400 Lbs
500 Pounds (226)
400 Pounds (181 kg)
Material
High-quality heavy-duty 210T parachute nylon fabric
210T nylon parachute fabric
70D High Tenacity Nylon Taffeta
Accessories
It comes with carabiners attached to each end and two 8 ft ropes to hang it up. No tree straps. Instructions on how to tie knots.
 Two Heavy duty ropes each 137" long, two tree-hugging straps each 52"Long x 1" Wide and two solid steel carabiners.
Carry bag, Aluminum Wiregate Carabiners, nautical grade line with stainless-steel snap links. Tree straps not included.
Colors
Black, grey, red blue, and green
Gree, yellow, red, and blue.
With over 30 different colors there is one for everyone's taste.

Red, yellow blue, green, maroon, orange, purple, neon, grey, camo, and the list goes on.

Our Pick
Best single camping hammock for the price.
Best Double hammock due to the low price, the large maximum load of 500 lbs. Excellent added features like the included tree straps.

♥♥♥

Very popular hammock camping for two but let down due to fewer features and no tree strap.
Where to Buy
Hanging a Hammock accessories and angles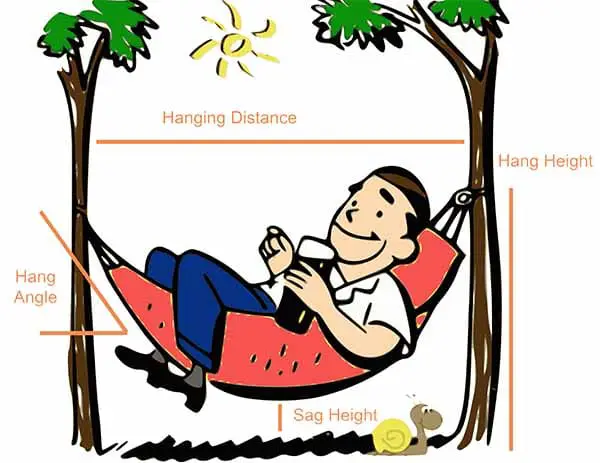 The recommended hang angle for each strap is between 30-45 45 deg. This is not an exact science but it will give you a more restful, comfortable sleep. Just eyeball it and if required shorten or lengthen your straps. An easy way to work out your angles is 1/2 of 90deg is 45deg. Take a little bit more off and you will be sweet.
Here are some common angles and lengths for your hammock setup that will get you in the ballpark. Some hammocks are different in length and weight sag so tailor the setup first for your comfort.
The distance between trees: 15 Feet
Hang angle: 30deg – 45deg
Tree tie off point height: 70 inches
Height from hammock to the ground: 18 inches
Ridgeline length: 100-108 inches
Apart from your tree strap, you will also need 2 carabines and some extra rope or paracord if your trees are a long way away.
Another tip is to set up a ridgeline. Now not everyone does this but it will help you fine tune the angle of your hammock. A ridgeline is a length of rope that will connect one end of your hammock to the other. The shorter the ridgeline rope the tighter the angle of your hammock and the more bend it will have. You will have to play with this a bit to find out whats more comfortable for you. It is like a fine tuning device if you can't get perfect angles like if your trees are too far away.
I tend to grab my ridgeline from time to time to help me get in and out of the hammock and to pull me higher up one end if required. 100 inches of ridgeline works well for me.
2 person hammock with stand on the back of a car
I have seen this done and it looks cool. Being able to set up a couple hammock chairs from the back of a cars tow ball hitch is really interesting. It means you can go out to the beach or park where there are no trees around and still be able to throw up your hammock chairs.
Its called the Hammaka Trailer Hitch Stand Chairs Combo. Each chair includes detachable headrests, footrests, drink cup holders and carrying cases. It will work with any standard size 2-inch hitch receiver, and each chair can carry 250lbs.

Unfortunately, if you also would like to incorporate a regular hammock then you will need to upgrade to the Hammaka hammock hitch stand with 2 Cradle Chairs and the hammock options.
Comes with 2 Chairs and 1 Hammock

300lbs weight capacity for hammock mode

300lbs weight capacity per chair in chair mode

Unique Patented Design

Compatible With All Standard 2″ Receivers
Benefits of a double hammock over a single nest.
The main reason we use double hammocks for the adults is the extra room you have. With the extra parachute material, you can just about lay sideways. This increases your stability when getting in or out as well as sleeping.

For larger people, the double hammocks have real benefits like extra room so you don't feel like you are sleeping in a tight cocoon and extra weight capabilities. In fact, we have even had our three young children resting in one on a hot afternoon.
Most people think if you buy a double hammock then you will be sleeping in a hammock with a partner. Well for me this is not the case, we both like our own space in the wild. So separate nests for us. We both just get a better nights sleep this way.
What can cause hammocks to fail?
One of the biggest problems I see while out camping and hiking is people using a single hammock as a resting pad for two people. These single hammocks are made to accommodate only one person. This is due to the thinner nylon fabric and small cordage.
I have seen a couple of ropes break due to overloading and 3 hammocks split in half. Although one failed due to a sharp set of car keys poking a hole in the fabric which then grew and split.
You can repair smaller puncture holes with a product called Tear aid fabric repair kit. Now I wouldn't go repairing a large rip, only smaller holes.
If your hammock does have a tear or hole in it its best to throw it away and buy a new one. Hammocks are relatively inexpensive and it just not worth putting your families safety at risk.
Even falling a few feet is enough to break a bone or do some serious heat injury to always inspect you hammock prior to setting it up and jumping in.
 Always get into your hammock gently. It's not a launch pad into the lake, nor should you bounce on them like a trampoline. Hammocks are for sleeping and resting and if used as such will last a lifetime.
Conclusion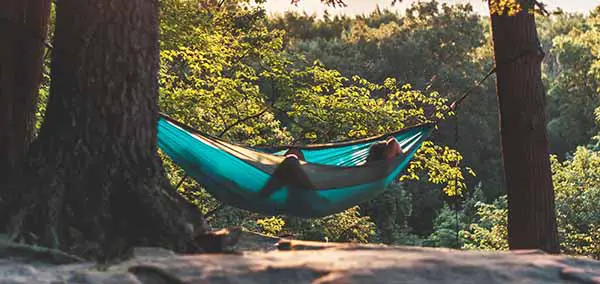 As a survivalist, I have a couple of hammocks in my 3-day bug out bag ready to go. They are lightweight and don't take up a whole lot of room. In fact, even on some day hiking trips, I will just take one along strapped to my belt with a clip. This way we can set it up for a rest along the way. Makes for an easy lightweight chair or bed for a rest.
I recommend sticking with quality brands such as Eno, Wise Owl, and Winner as you know they won't skimp on materials and stitching. None of us want to fall out of a hammock due to poor quality stitching.
Even though we have double hammocks I simply can't sleep together with someone else in the same hammock. I just need my space, but other people seem to enjoy it. I guess its a personal thing but claustrophobia is a real thing for me. Guess its like having a king size bed just for one person.
Just remember to set up your 45 deg angles and use a ridgeline your body will thank you in the morning. Go ahead and get the double sized hammock and enjoy your weekends out in the wild.
As an electrician and a survivalist prepper, I want to share some of my ideas, thoughts, hardware, and survival techniques I have learned over the past 20 years. The world is changing fast and we need to be repaired for what may come if society breaks down.